We've created an example site to showcase our £495 website deal. You can see the website – for fictitious cake baker Caroline Cooper – at carolinescakes.redballoonweb.com.
Who is this package for?
This package is aimed at microbusinesses. You're probably working on your own and just starting out on a small budget. You want a website you can be proud of, but you also need to know that everything has been professionally taken care of and there won't be any hassle (you have more than enough to do already!)
What's included?
The amount included in this package is incredible, you simply won't find a better website deal – anywhere. Let's break it down:
4-Page Website
We create a 4-page website because this is perfect for the typical startup sole trader, with a homepage, about page, service page and contact page.
Homepage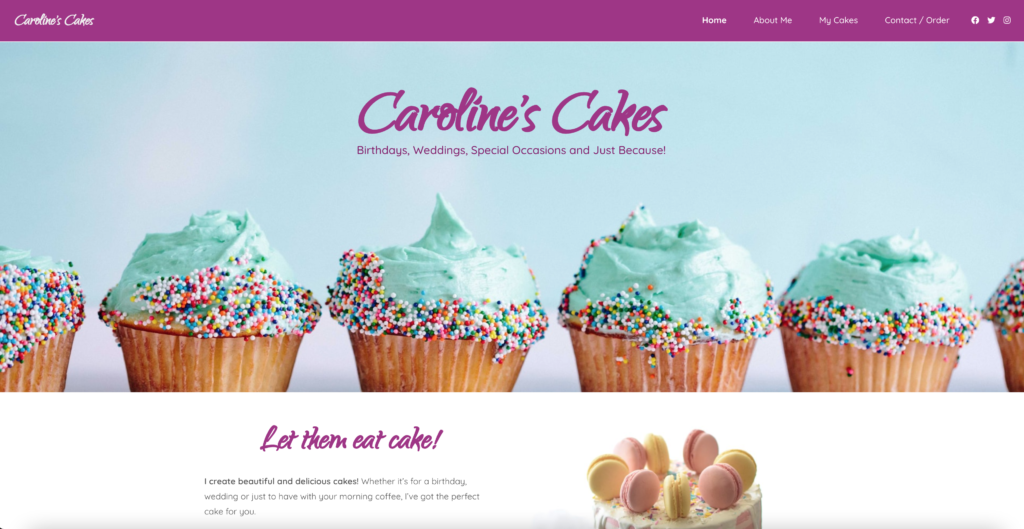 The homepage features a fullscreen image with your name and strapline over the top. If you don't have a photo which will work for the fullscreen image, we'll find a stock photo for you. Or if you prefer a different design and just want a title and a photo without the fullscreen, no problem.
The first section of the homepage (that you can see half of in the image above) is the place for your strongest sales messages. Your proposition goes in here ('I create delicious cakes', 'I am the best plumber in Edinburgh', etc) so customers immediately know who you are and what you do. The rest of the homepage contains a quick summary of each of the other pages, with a link to go each.
We'll tailor the feel of the site to suit you. This is a girl selling cakes so it's fun and girly. If you're a builder we won't use frilly fonts and pink (unless you want us to).
About Me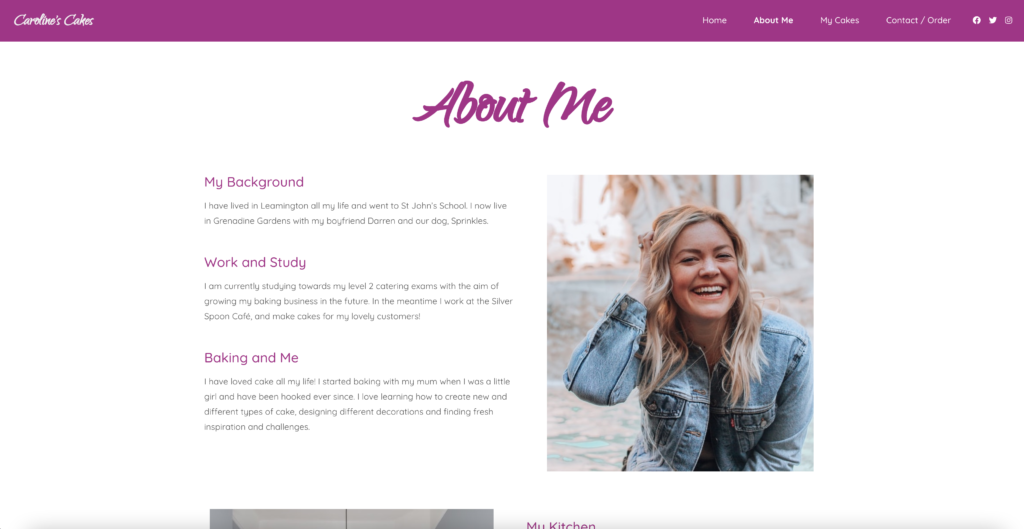 People buy from people, not faceless businesses. This page is to put whatever information you can about you, your background, skills, interests and so on, building trust with your potential customers.
Service Page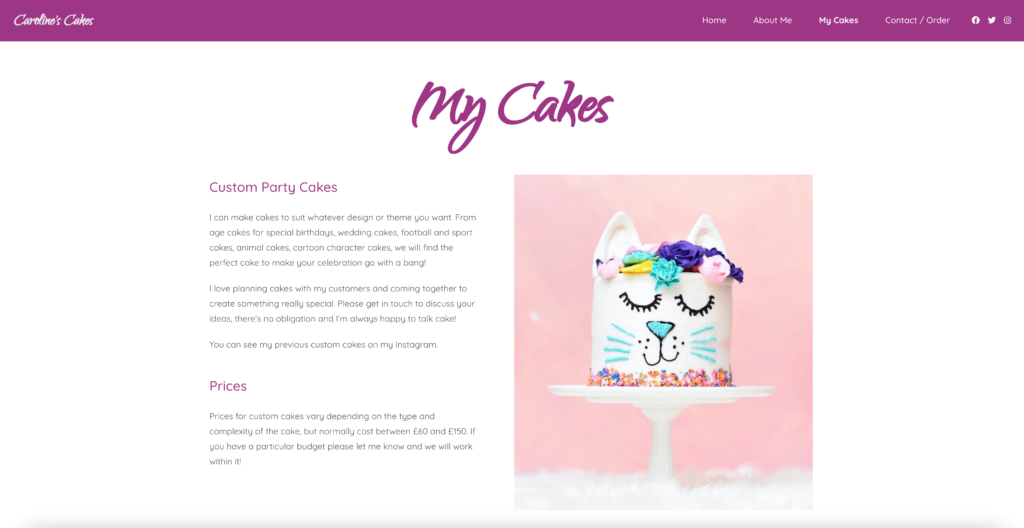 Next is a page explaining your services. You can explain the various services you offer and prices, and any other information people might need before purchasing from you.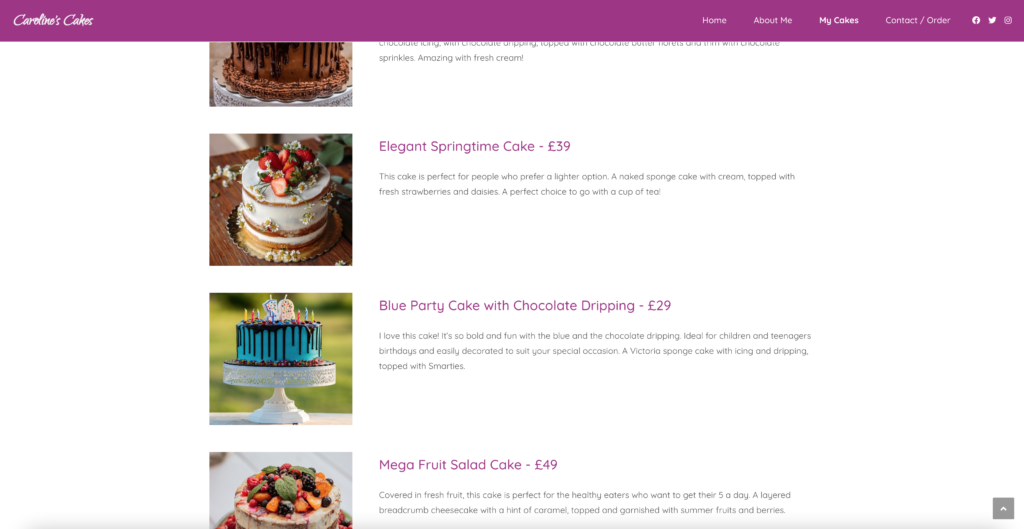 Contact Page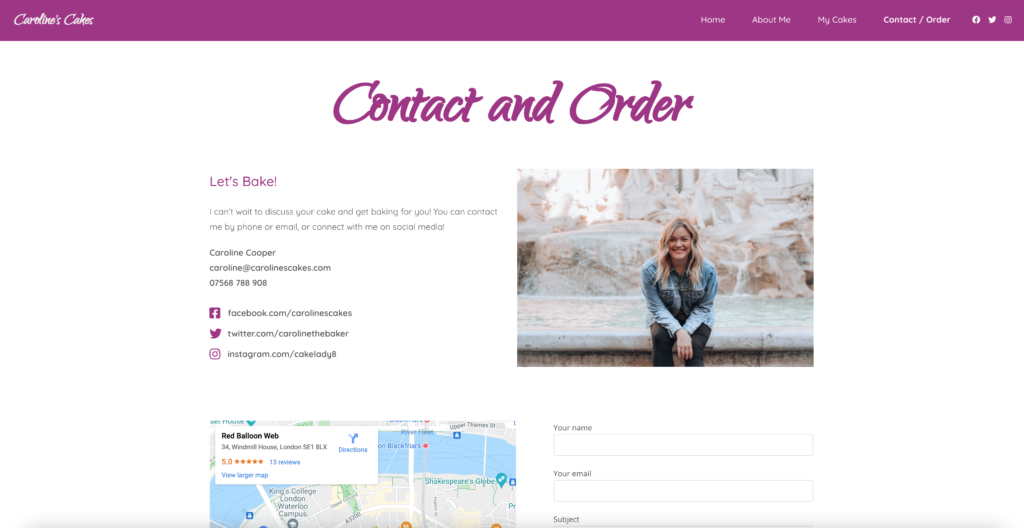 Your contact page obviously contains a contact form and your contact details. A Google Map is a great idea so people know where to find you. We'll link the map to your Google My Business so it doesn't just show up a location but your business name and reviews. If you don't yet have a GMB listing, we'll set that up for you too.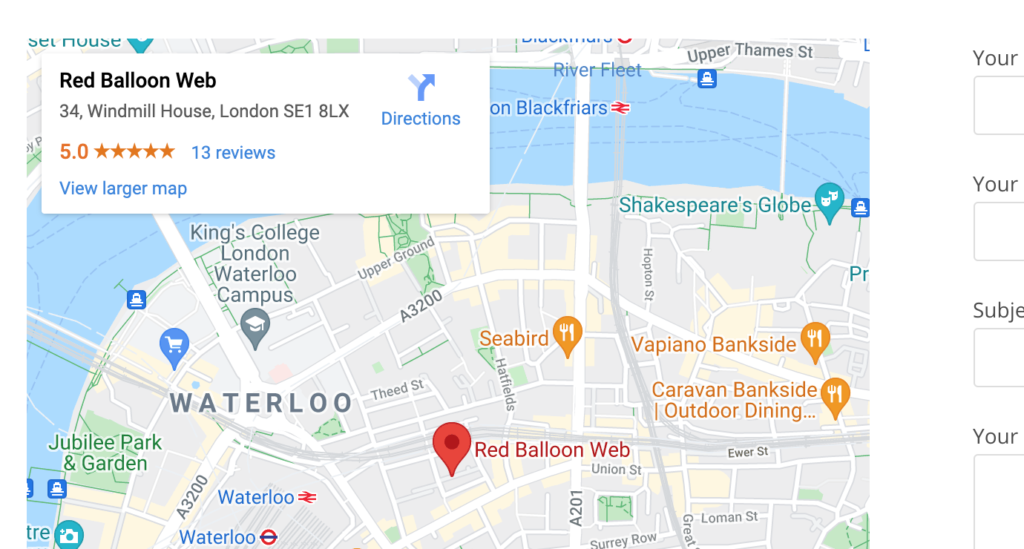 If you're on social media it's a good idea to let people connect with you via those channels, and to post regularly on at least one channel. For this website I used Facebook, Twitter and Instagram links on the contact page, footer and top menu.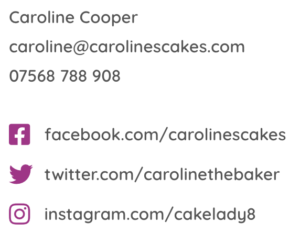 Favicon

We'll also create you a custom favicon to suit your business. As you can see above, a favicon is the little icon which identifies your website in the browser tabs.
Mobile and Tablet Optimisation
This is where a lot of entry-level websites fall down, but with over 50% of web searches being done on mobile devices, you can't afford your site not to look great on mobile devices. We'll make sure your site looks great on all screen sizes.
On this site I adapted the cupcake picture from the desktop version to create the mobile landing screen: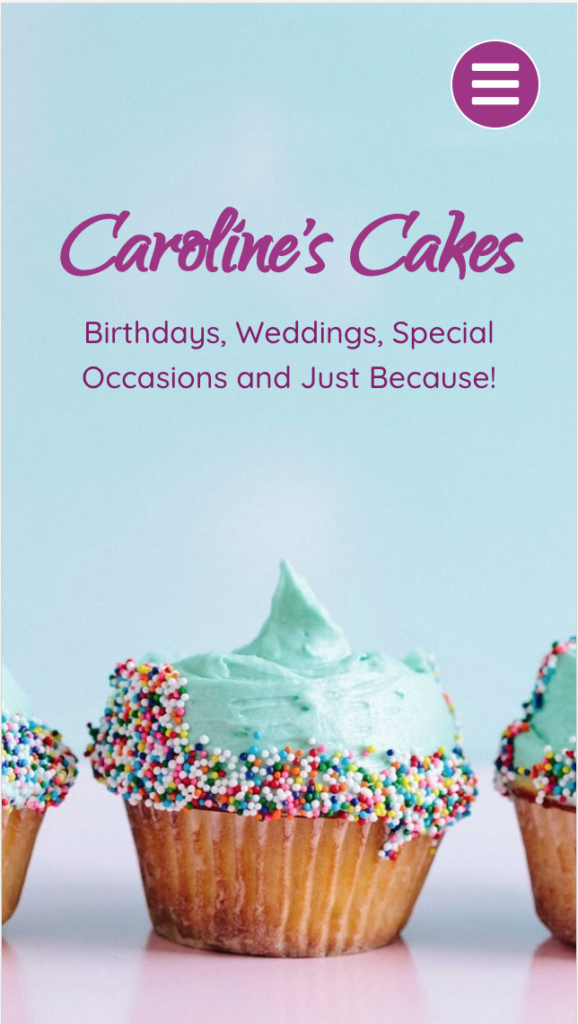 The floating hamburger menu is also unique to us because it's an option that we coded into our default WordPress installation. You can also have a menu bar, like I used on the other pages.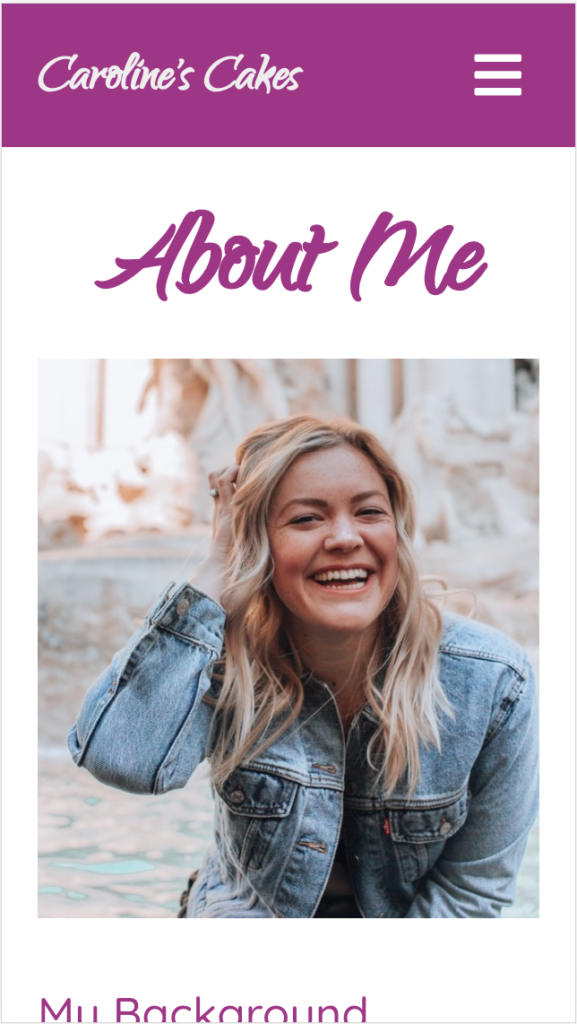 Normally default mobile menus slide in from the top and look ugly, but again we coded some better options. Our menu fades in fullscreen and can feature a picture in the background, like the one on Caroline's Cakes. It's these kinds of little touches that really make your site look professional.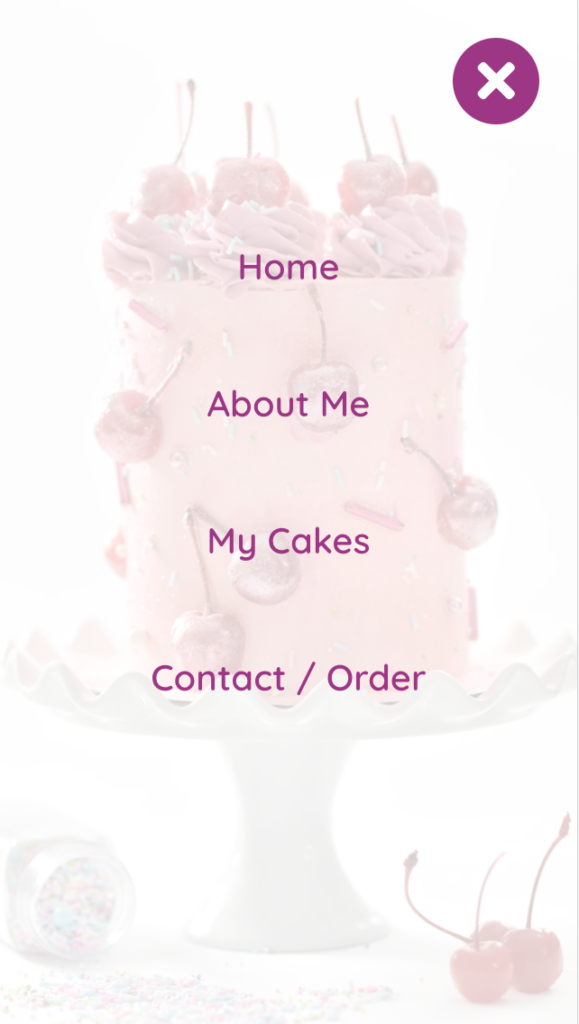 Stock Imagery
If you don't have the right photos for your website, we will provide stock imagery for free. Absolutely every photo on the example website has come from an image library.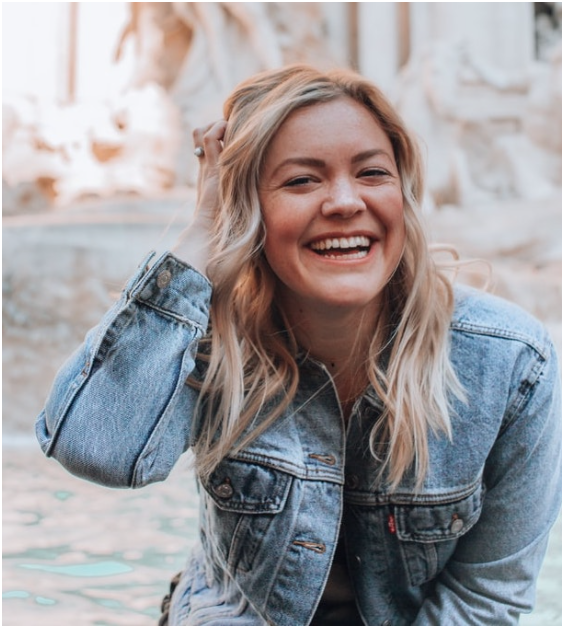 The more we can use genuine photos, the more authentic your website will feel. It's also obviously important that you have photos of you, products you sell or anything else unique to you that we can't replace with stock. At the same time there's no point using bad photos when there's a better stock one. Give us as many photos as you can and we'll find the best balance.
1-Year Super Fast Hosting
We will host your website for 1 year on a Dreamhost VPS with Cloudflare global CDN. Let's explain…
A VPS is a Virtual Private Server. That ensures your website isn't sharing server space with any 'stranger' websites, like you get with shared hosting. On shared hosting you may be on the same server as websites which use up all the memory and bandwidth, causing yours to load slowly, or even worse you could be on the same server as a website which serves up spam or porn or other naughty things, and your site could be penalised for sharing the same IP address.
The CDN is a Content Delivery Network, meaning copies of your website are held all over the world so the distance from server to client computer is shorter and your website loads faster. It's unlikely that people all over the world are looking at your local business site, so this benefit is small, but the real reason we use the Cloudflare CDN is that it includes Brotli Compression, the best way of reducing the size of your website to transmit over the internet. If you've ever received a zip file and unzipped it, this is the same idea but for websites.
We'll also provide and install a free SSL certificate, so you get the "padlock" appearing at the side of the URL bar and users know your website is secure.

Domain Name Registration
If you don't already have a domain name, we'll include any domain name registration for 1 year up to the value of £15. That includes all .com, .co.uk or .org, which are normally around £10 per year. Fancy names can be more expensive – .london is still around £70 per year, and .tv was around the same when that was popular back in the noughties. You'll have to pay domain registration every year, so bear that in mind before choosing an expensive one.
You can pick any domain name that hasn't already been registered by someone else. So Caroline would probably want carolinescakes.com if it were available. Unfortunately that's already been registered by another cake-making Caroline, but carolinescakeshop.co.uk is available: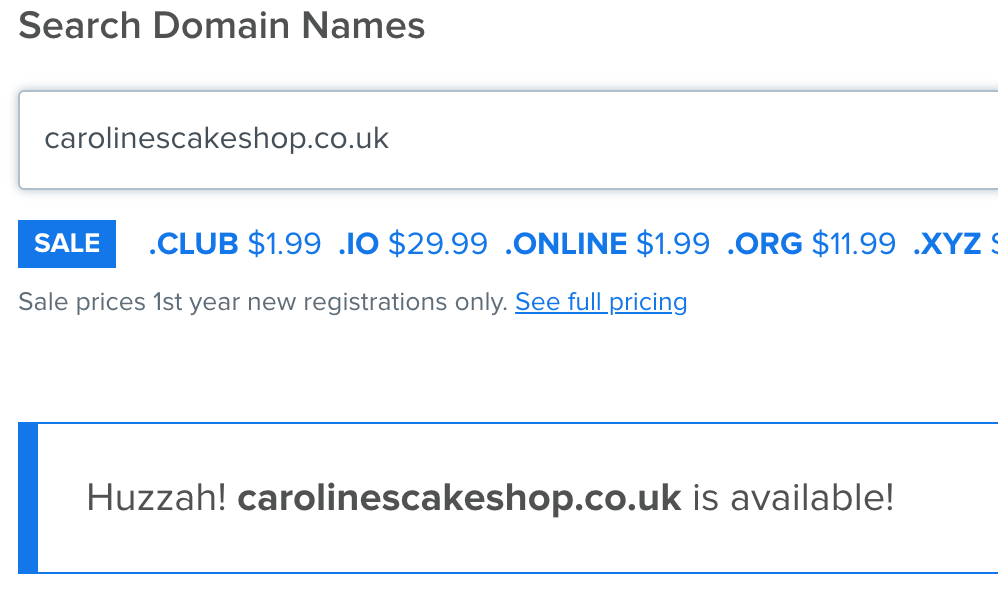 If you don't already have a domain name please don't register it through GoDaddy or any other provider but tell us what you want and let us do it. it doesn't make the domain cost any less but just makes our life much easier when the domain is registered on the same package as the hosting.
Email Setup
Let's say Caroline has now got carolinescakeshop.co.uk and she wants [email protected] to be a normal mailbox that she can set up in Outlook or Mac Mail, but she also wants [email protected] to forward to her gmail, and [email protected] to forward to her accountant. We'll set all that up for you and give you any support you need in getting your new email addresses working with your email program.
SEO Optimisation
In addition to Google My Business creation and optimisation, we'll take care of the following fundamental SEO optimisations when we build your site:
URLs and Page Titles
Meta descriptions
Image alt tags
Schema.org markup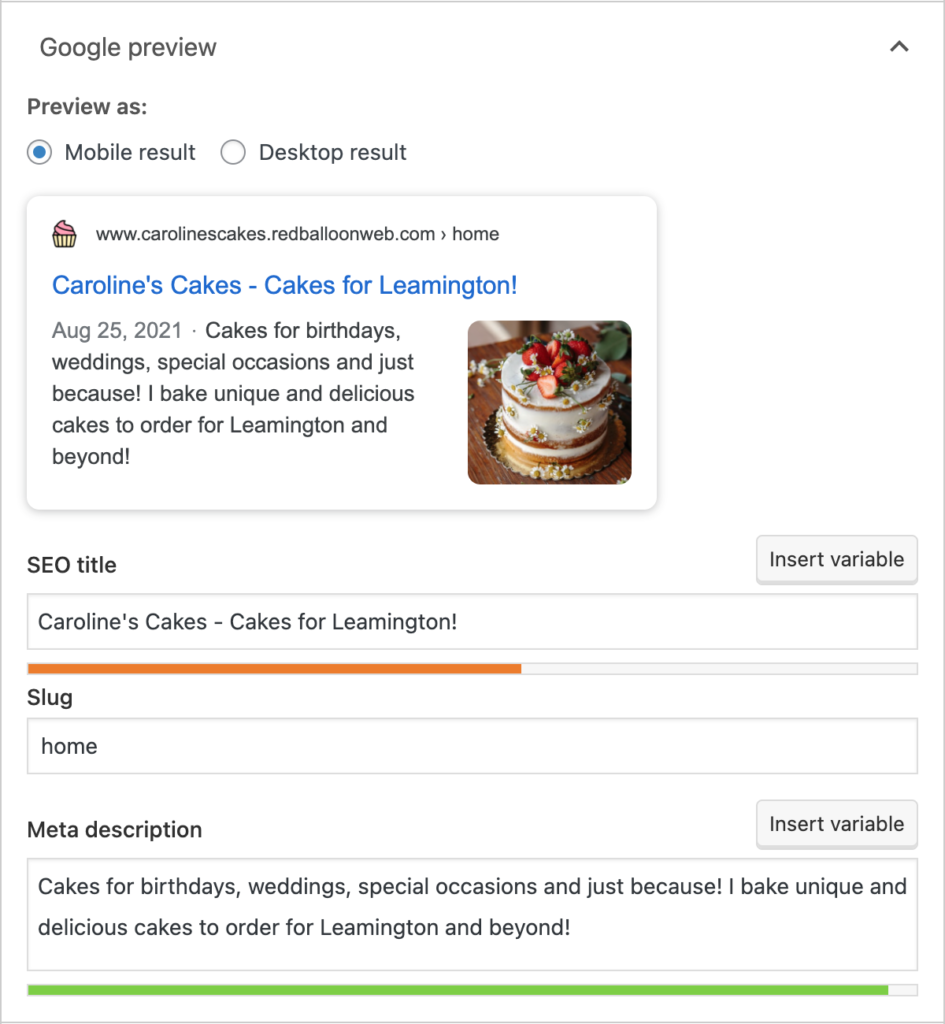 Without getting too technical, all of these optimisations tell Google and other search engines what your website is about, who you are, where you're based, and what each individual page is about.
To understand more about SEO optimisation, see the Google My Business section
Social Share Optimisation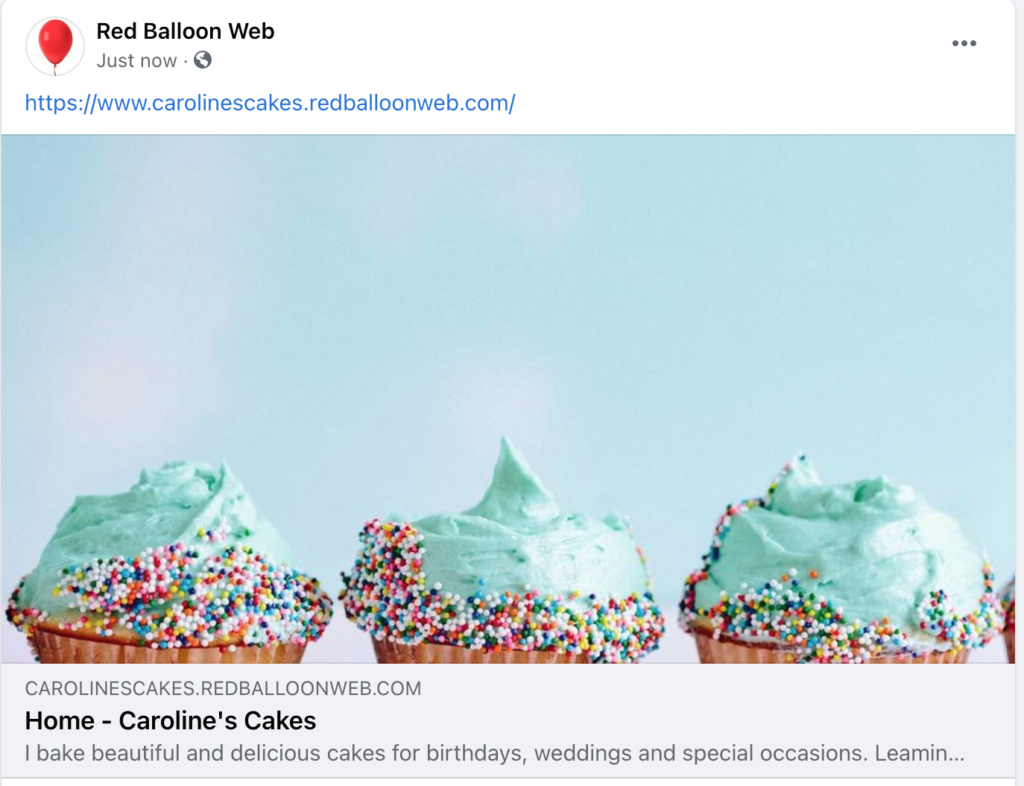 Hopefully sooner or later someone is going to share your website on social media. When they do it's important that it previews well on Facebook, Twitter and other social platforms. We customise your sharing preview to make sure you look professional when people share your site on social channels.
Analytics Setup
You'll want to know how many people are looking at your website and where they've come from (Google search, social media, clicked an email link, etc.) We set up Google Analytics on your website so you can log in anytime and see all the information you need.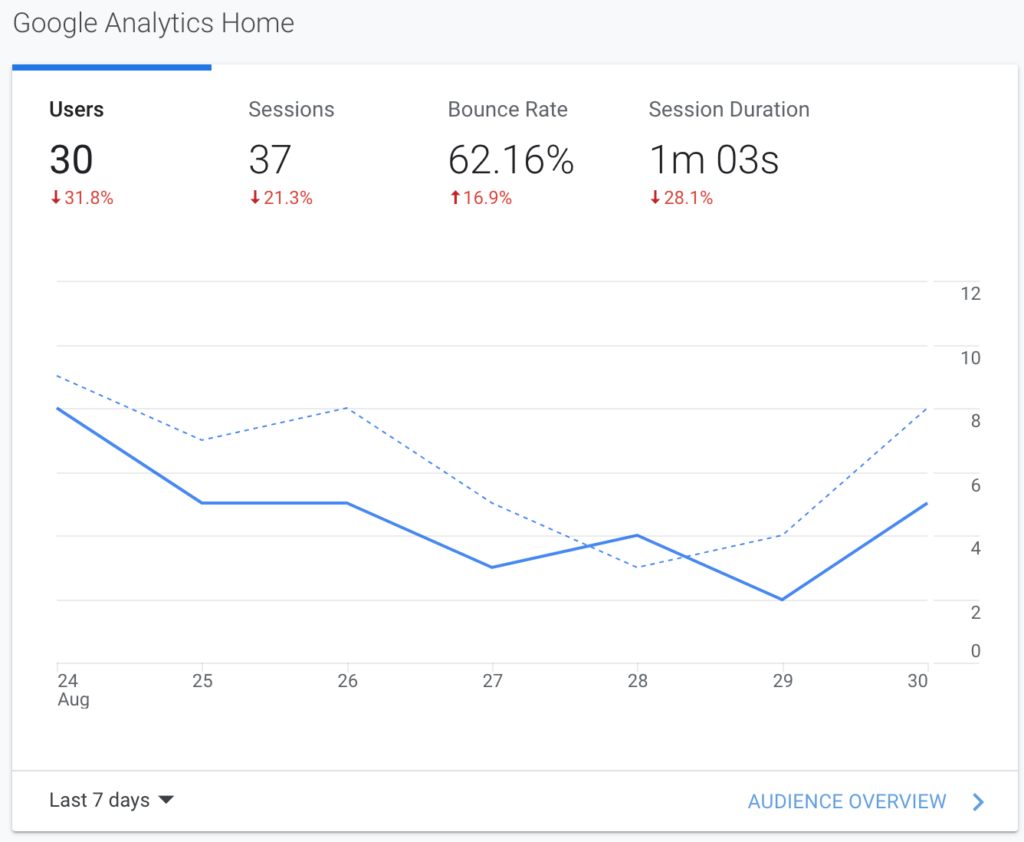 We can also set you up a free Hotjar account, allowing you to watch exactly how visitors interact with your site with live session recording, and heatmapping to show which parts of your page people are looking at most.
Google My Business (GMB) Setup and Optimisation
Google My Business is by far the most powerful SEO tool for small businesses. It's completely free, and created by Google to allow people to find local businesses easily. Once you've created your account, you can manage your business listing from your control panel.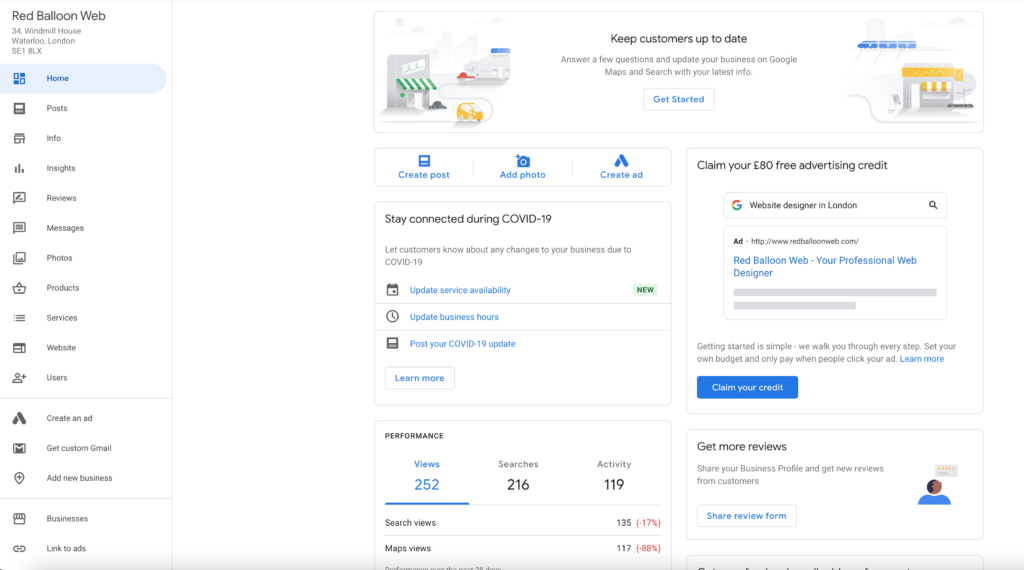 Having a Google My Business account means your business will appear on Google Maps and you can appear in the "local pack" when people search for businesses locally – that's the little map with the top 3 results in your area.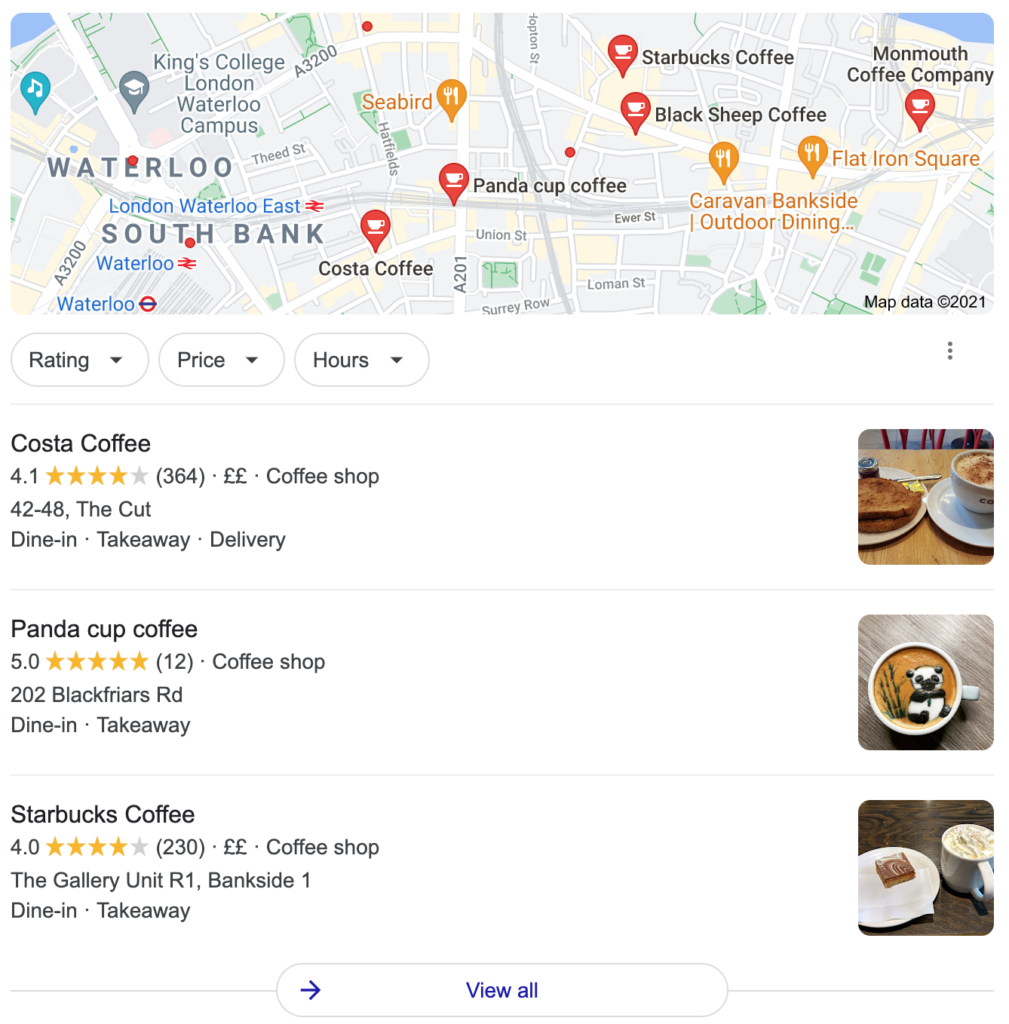 Whereabouts you appear in search results depends on your competition and the effort put into promoting your business. If you are the only plasterer in town then you will come top for plasterer right from day one. If there are others who are more established than you then you will rank below them, and will have to garner positive reviews and inbound links to your site to compete with them in the search rankings.
What we do with SEO and GMB optimisation is twofold – we ensure that anyone searching specifically for your business (e.g. typing 'carolines cakes' into Google) will find you instantly, and we give you the strongest possible foundation for building your SEO in the future, whether on your own or with an agency like us. To learn more about local SEO see our blog post on Local SEO Services.
Conclusion
Lots of people are starting side hustles and microbusinesses and need to get online. Although there are lots of freelancers offering cheap services, frequently they don't fulfil everything you require. You'll be left sorting out your own hosting and migration, SEO optimisation, GMB creation, you might be disappointed with the look of the site on mobiles, and generally end up paying a lot more than you were originally quoted with a lot of pulling your hair out.
We think that's no good. You should be able to pay one price and know that absolutely everything is taken care of, that there is always professional support at the end of the phone, and you can work with the peace of mind that your website is sorted, while you focus on what you do best. That's what we offer.
To discuss our entry website package further, call us on 0800 048 7608 or drop us an email.