Archipelago Textiles is a one-woman business run by Doreen Gittens. She was one of the original tenants of London's OXO Tower and weaves bespoke fabrics by hand on a loom. I took on the task of creating organic traffic to a microbusiness in a very competitive space.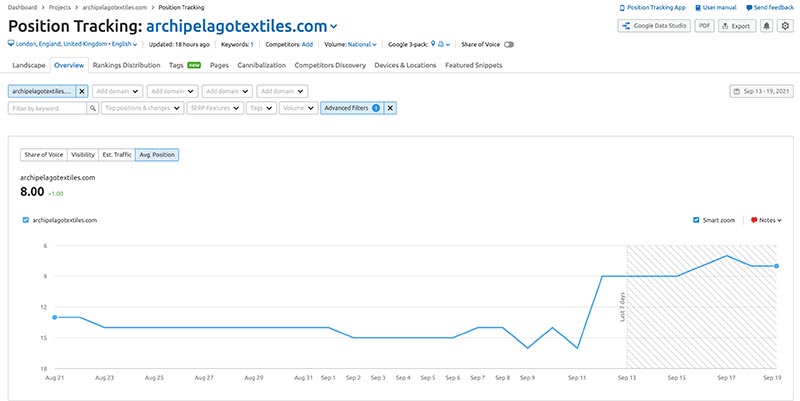 15 July: Position 30th
Archipelago Textiles' website was already optimised for the main terms around her business – company name, services, etc. But a business of Archipelago's size and resources is never going to compete in SEO terms with many larger businesses who create textiles commercially.
Doreen also doesn't have the resources to start writing blog articles or publishing regular videos. Without fresh content it is very difficult to keep a website relevant and garner inbound links. What we needed was a guerrilla approach: low volume searches with little competition which we could target mainly on relevance.
We came up with several possible options for search terms to target, all low-volume and low-competition:
| | |
| --- | --- |
| Search Term | Monthly UK Searches |
| Hand-woven blankets | 90 |
| Hand-woven bedspreads | 90 |
| Hand-woven wool fabric | 70 |
| Hand-woven [wool / cotton / linen] fabric | 150 |
| Bespoke upholstery fabric | 70 |
Potential low-competition SEO terms to target
Doreen wanted to target 'Bespoke Upholstery Fabric' as she already has an interest in upholstery and in creating upholstery fabrics
Although Bespoke Upholstery Fabric is a low-volume search, we have three big advantages. One is that it's the kind of search people are more likely to browse the SERP (Search Engine Results Page) for, rather than simply click the first result. The second is that the other results on page 1 are all fabric houses or blogs rather than artisans. By emphasising Doreen's unique qualities in her page preview, we can set her apart from other pages in the SERP. The third is that this is the only of the terms that isn't dominated by Etsy and other artisan sites, which are impossible to compete with at our level of resources

We created a page on the Archipelago website called 'bespoke upholstery fabric' with some content on Doreen's fabrics and how to contact her and buy. The page debuted at 30th, the bottom of page 3.
5 August: Position 15th
We now began filling out the page with more content and outbound links. We created sections on finding an upholsterer with an embedded YouTube video and links to blogs and articles on upholstery. We also put a section linking to Doreen's instagram. We added technical information and an FAQ section.
The aim here is to be a truly useful resource. Not just "I make fabric here's how to contact me" but information about everything from how long the fabric takes to weave to its commercial fire retardant ranking. It's a resource on bespoke upholstery fabric, rather than a page just selling it, so Google ranks it higher.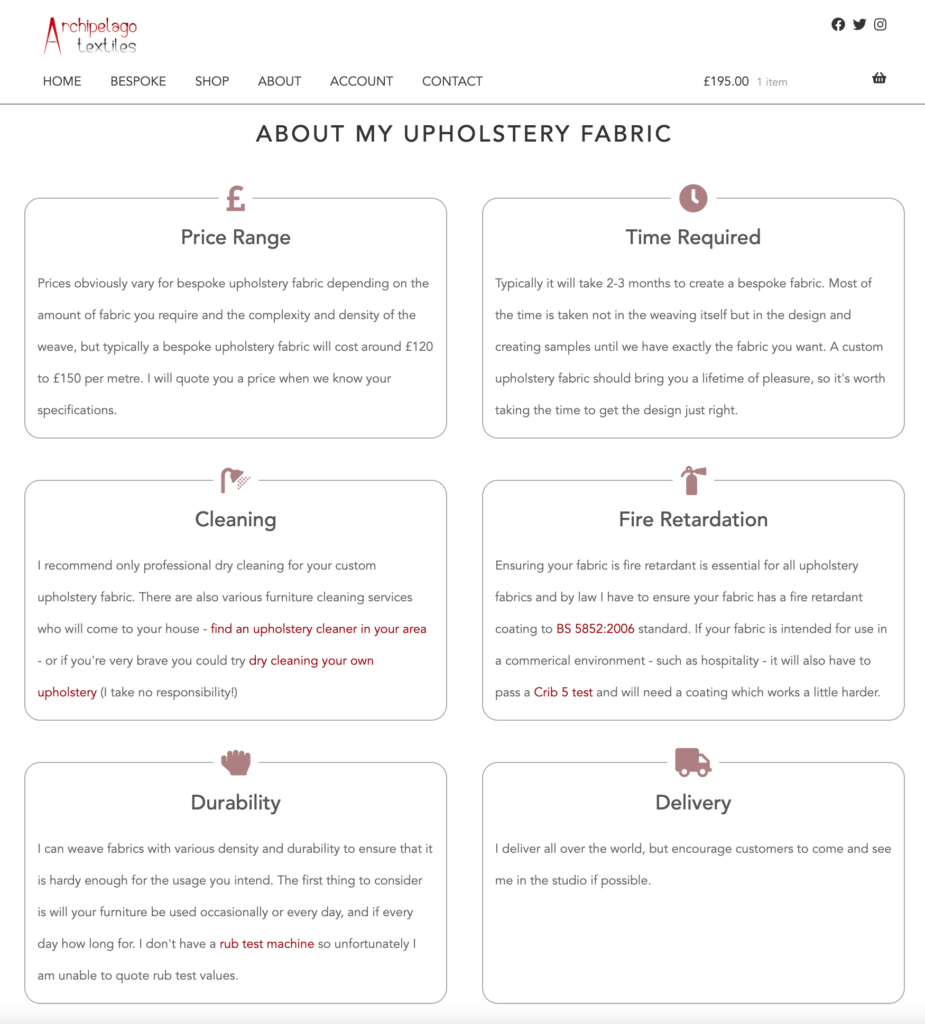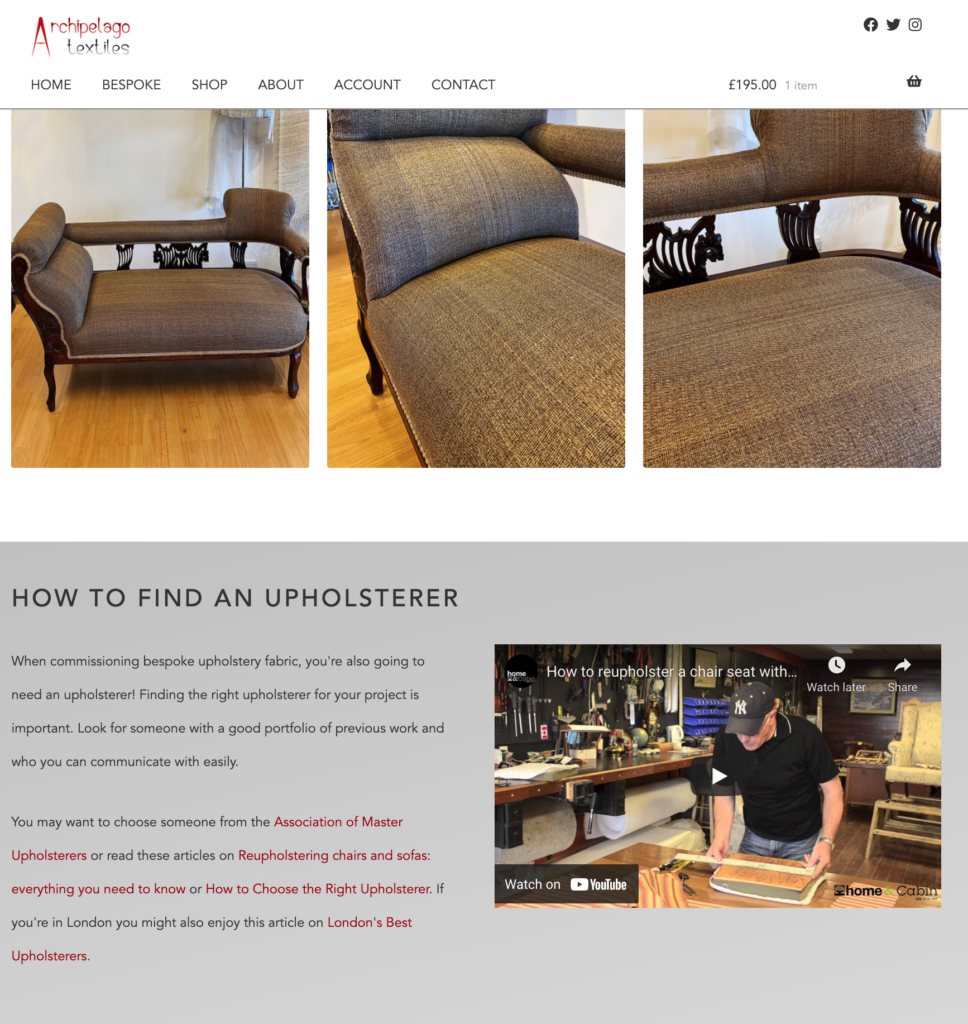 After filling out the page we saw an immediate improvement in ranking from 30th to 15th.
12 September: Position 9th
With the page as optimised as it could be, we started looking for inbound links. Link building is done by creating the best content you possibly can and then asking people in your industry to share it. We created this video with the aim of garnering links from bloggers and influencers in the upholstery and traditional crafts spaces.
With the video published, we made a list of upholstery bloggers, fabric bloggers, craft bloggers and fabric directories. We contacted 60 bloggers and 5 directories. One agreed to link to the page, from her page on eco-friendly fabric producers.
The fabric directories came back saying that Archipelago aren't a real fabric producer but an artisan and not appropriate for a fabric manufacturer directory. I suggested to them all that it would be a useful addition or maybe merited a separate section in the directory, but they didn't agree.
This was mid-August when a lot of people were on holiday, so mid-September I emailed them all again but got no more links.
I was disappointed with the response from the bloggers. I thought more would share the video and help a weaver out. But still we had a great promotional video which would get us more links in the future and give us something to market with.
We also boosted Doreen's about me page with a section listing her credentials, qualifications, exhibitions she's been in and newspaper clippings about her. This is on the E-A-T basis – that Google will rank information from a qualified professional higher than information from Joe Bloggs.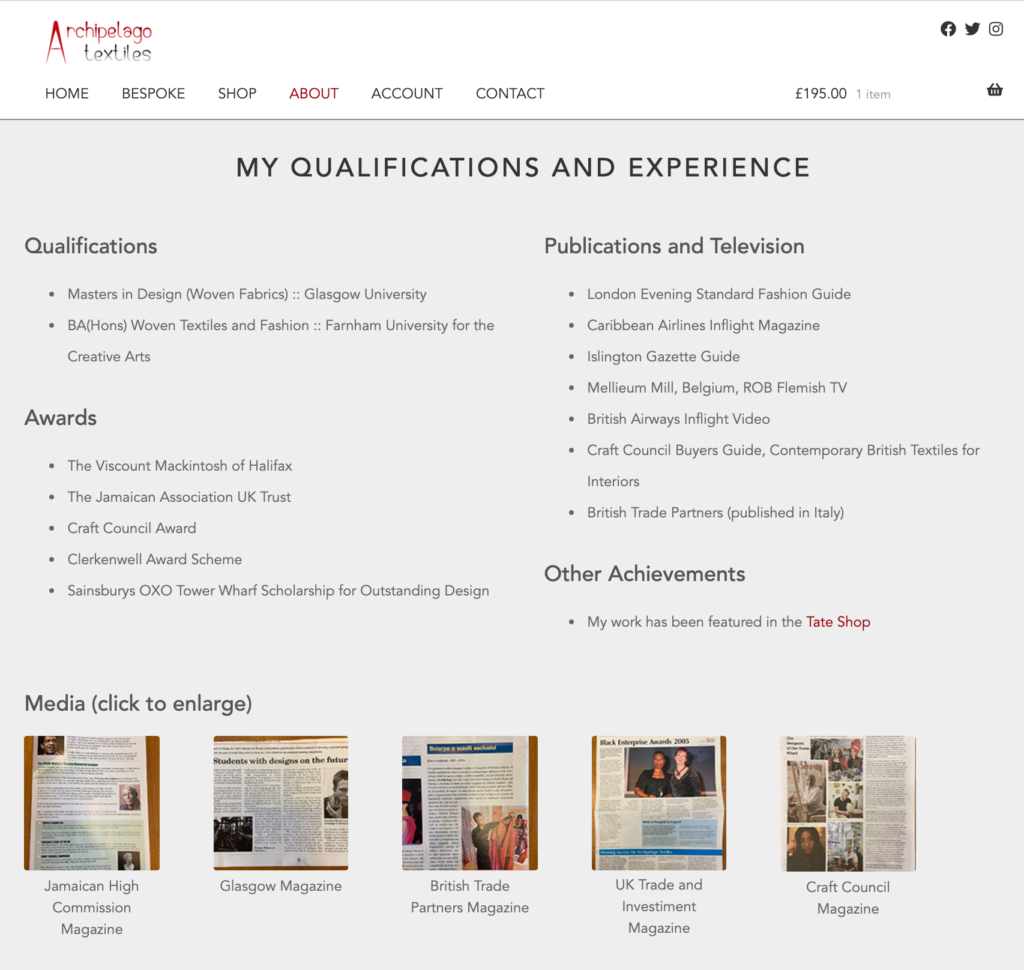 None of these actions had any immediate effect, but a week or two later the page rose up to 9th place and we were in the top 10.
The Future
We have already seen volatility in the SERP and we cannot assume the page will simply remain in the top 10. To maintain position and to target the top 5, it's important to keep working.
We have taken photos of all of Doreen's example upholstery fabrics and added them to her online shop. This way we create an 'upholstery fabric' section in the shop and link to it with a carousel from the page, creating for Google not just a resource about upholstery fabric from a qualified person, but the opportunity to buy relevant products as well.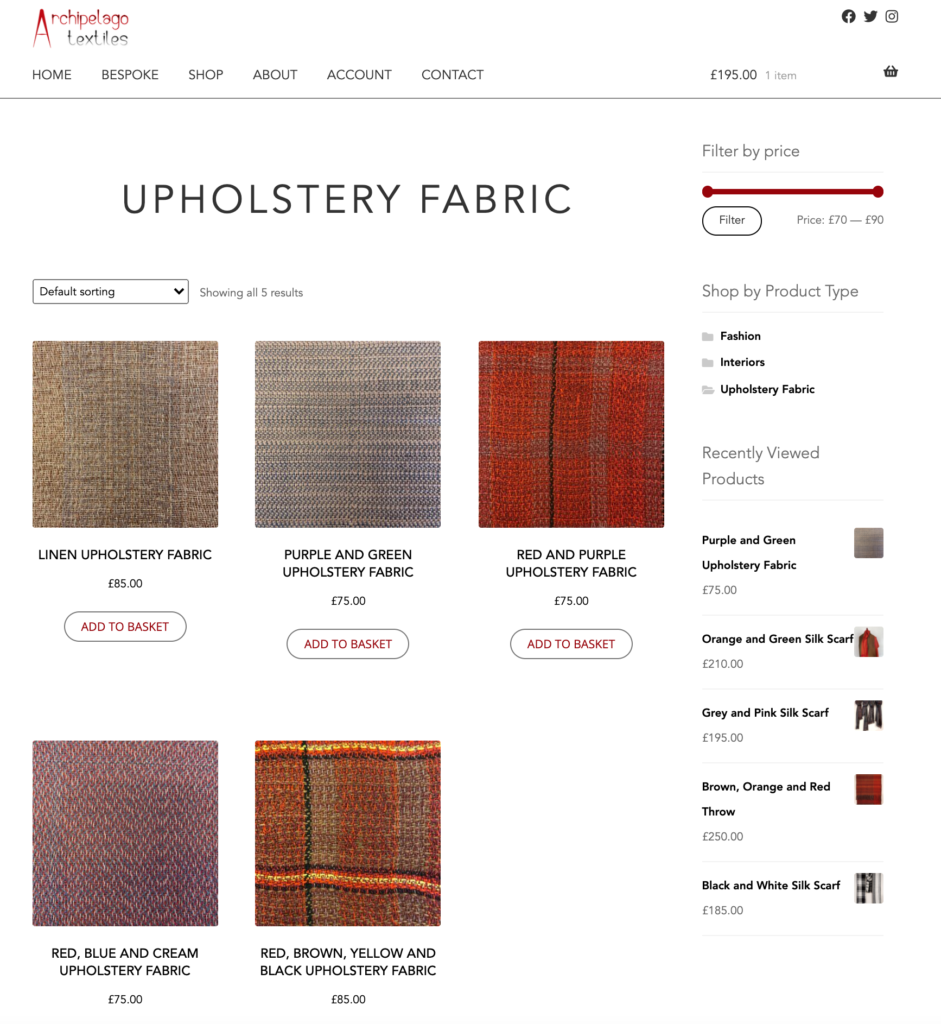 We have won 2 more inbound links, from Coin Street – who manage the OXO tower where Doreen is based – and from the Black Artisans Project, which features Doreen and her video. Both have agreed to link to the Bespoke Upholstery Fabrics page. These links are from projects going online in the next few weeks, so we haven't yet seen their effects.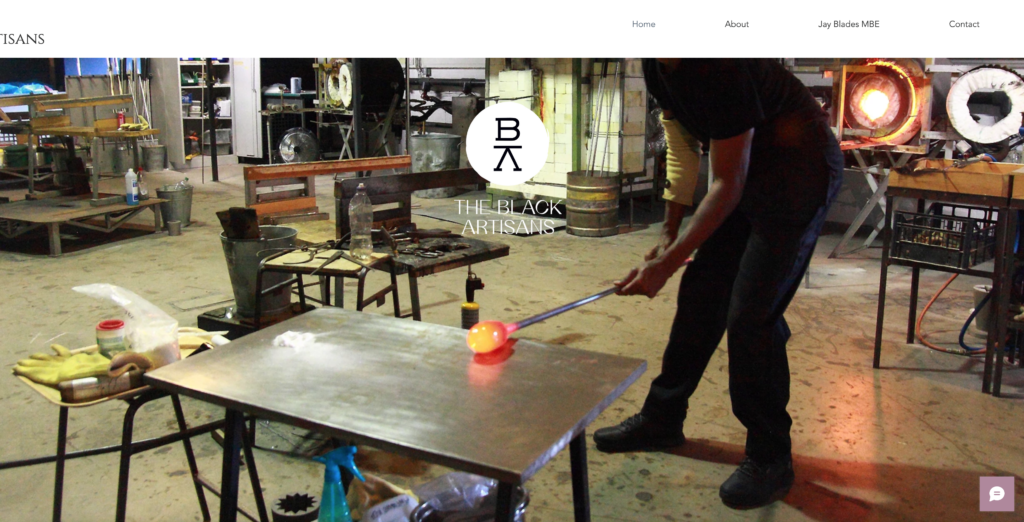 We are also carrying out a "backlink gap" audit, looking at inbound links to Doreen's competitors with a view to identifying other websites and directories who might link to us.
There are also the other terms still to target from the table in the introduction to this post. If we reached page 1 for 5 of these terms and got only 10 visits a month from each, that would still be 50 organic visitors a month who are in a buying frame of mind and searching specifically for what Doreen does, which is a game-changer to an artisanal business which has lost a lot of footfall due to Covid.
Conclusions
There are several conclusions worth noting from this project:
SEO is only worthwhile when there are opportunities available for your level of resources. I would have been lying if I had told Doreen she could rank on page 1 for the much more popular term "bespoke fabrics" with some on-page SEO and a couple of links. Picking your targets carefully must come first, always.
SEO is not done in isolation from marketing, SEO is marketing. Creating interesting, useful and well-presented content to promote your business is integral to building inbound links and ranking your site.
A "link building frame of mind" is essential. Wherever there is an opportunity to gain an inbound link, it's important to ask for it and follow up that it's done. It's crucial to be bold here.
SEO is not something you do once and forget about (as it was 15 years ago). SERP results are volatile and subject to algorithm changes and the actions of your competitors, and an attitude of ever-constant improvement is essential.