The internet is a funny place. In the olden days of websites, people would create sites and blog about things that particularly interested them or in which they had knowledge or expertise.
In the race to get traffic to our site, the process has been turned on its head. Instead of people writing about their specialist subjects, we use search engine tools to find out what people are searching for, then create content to fill that niche, irrespective of our prior knowledge of the subject.
And if we need to write a post or page on something we don't know about, we can Google it. If we take the top results for a search and make sure we include the information from all those top pages in our own page, it will be a more useful resource than any one of the pages which we got the information from, thus it should be a more useful resource and more easily able to score highly on Google (known as the Skyscraper Technique).
This leads to a proliferation of low-quality, regurgitated content on the internet, written often by professional content marketers with little or no real knowledge of the subject, hired to create keyword-stuffed content for SEO.
People quite rightly bemoan this state of affairs and say it should be different, but as I like to say you can take that to the Should Police. The world is the way it is and we are here not to judge it but to make money out of it.
I wondered if I could also create a ranking site and get traffic to it, on a subject I know absolutely nothing about. This blog post is about the beginning of that experiment.
Selecting Keywords
The first step is to pick the niche and keywords to target. I spent a couple of hours on Ahrefs looking at all kinds of general, generic searches like celebrity names, 'how to be', 'at what age' and so on, looking for subjects with a high search volume but low competition.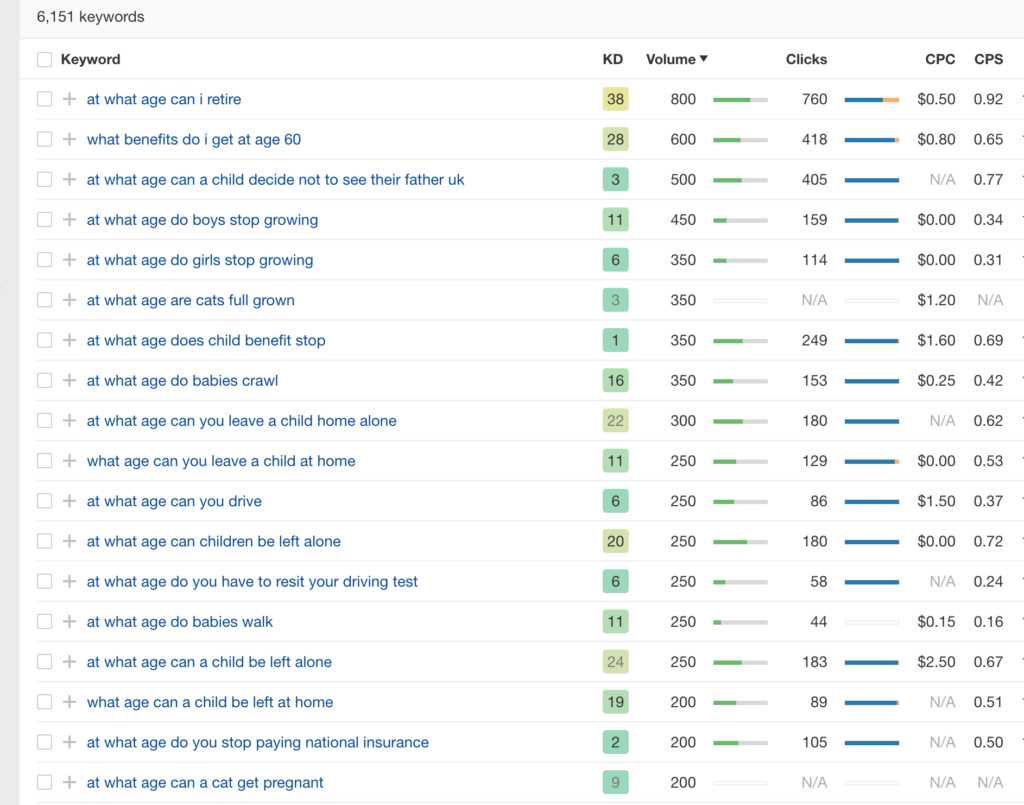 After a lot of playing around I came up with:
How to become a train driver : 4.1k monthly searches
How to cook braising steak : 1.4k monthly searches
Brexit News po polsku (Brexit news in Polish) : 10k monthly searches
There was plenty of room towards the end of the first page of results on all searches. It would be hard to get to no.1 as big websites like the BBC had those places, but further down were less relevant pages with few links.
How to become a train driver really needs information pulled in from train companies with how to apply. This information could change and is different from country to country. Only 600 of the 4.1k monthly searches were in the UK.
Brexit News po polsku needs the help of a Polish friend to translate the site. Since there's no money in it and we wouldn't even actually be providing Brexit news, it seems a bit unfair on someone else's time.
How to cook braising steak has a parent category, braising steak, which has 6.6k monthly views and plenty of similar terms that can be targeted, plus it can provide the actual information people are looking for while the other two would really be portals to other sites (train companies or news sites). Let's have a look at the stats: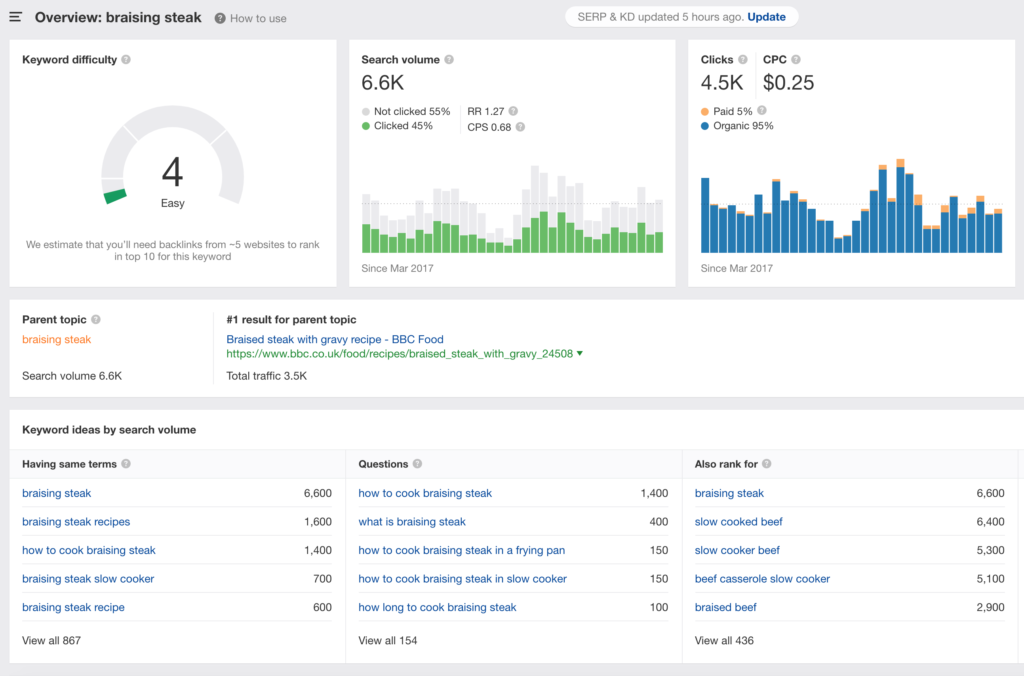 Braising Steak has 6.6k monthly searches and a keyword difficulty of 4.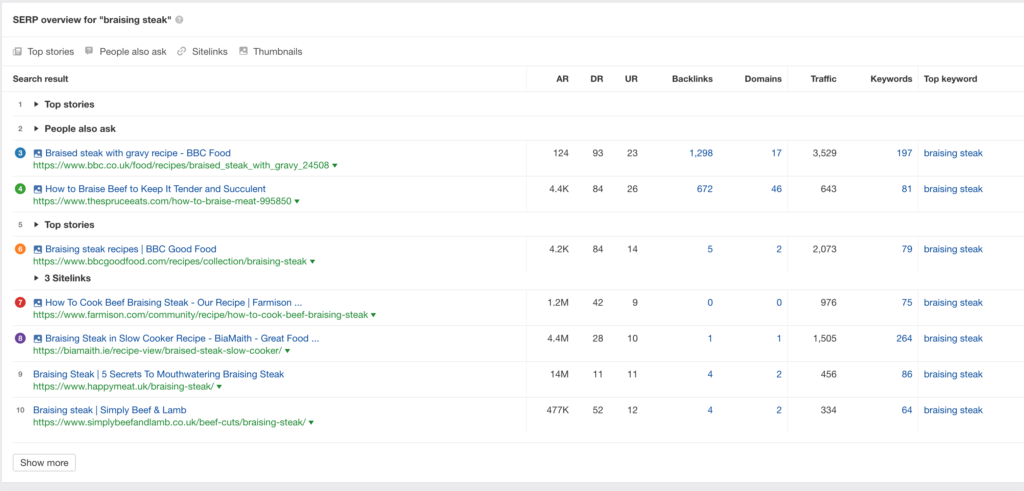 There are some big websites at the top but there are some weak results there too, pages with a low ranking and few inbound links
Let's look at 'how to cook braising steak'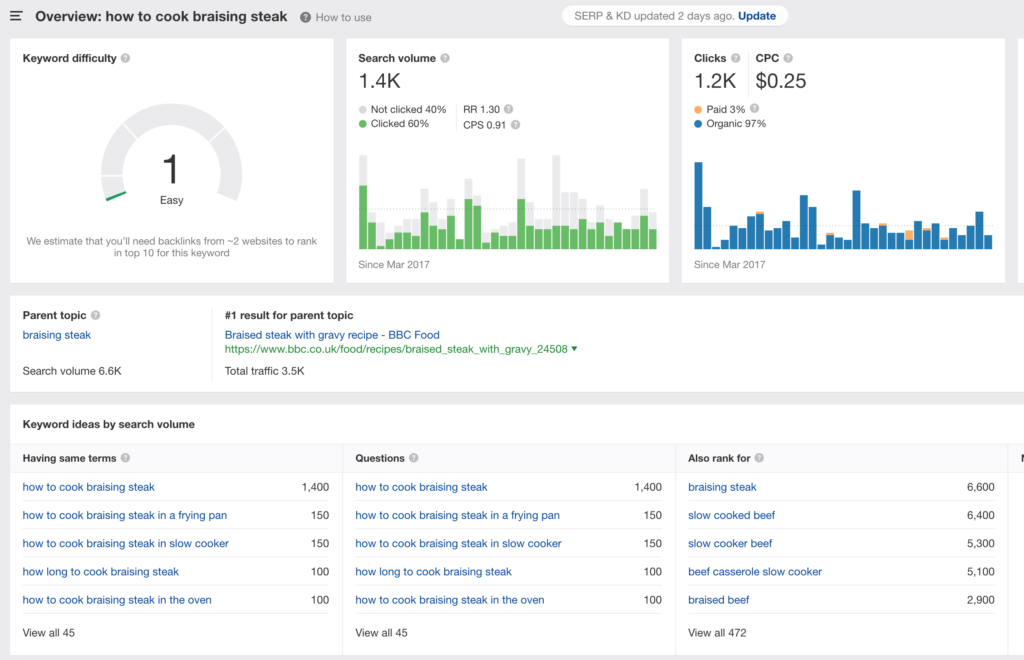 1.4k searches and a 1% keyword difficulty. Let's have a look at what sites are currently ranking: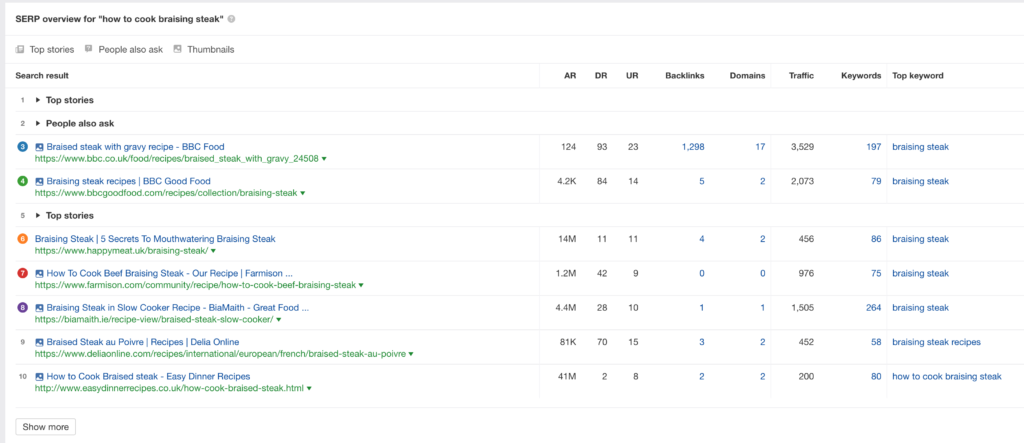 Again there are similar pages that have few inbound links and aren't 100% relevant. A page on "braising steak au poivre" is not as relevant as a page called "how to cook braising steak", which is the exact search term.
Other keyword ideas
We can see other popular searches by looking at what people ask:

And by using the Ahrefs tools: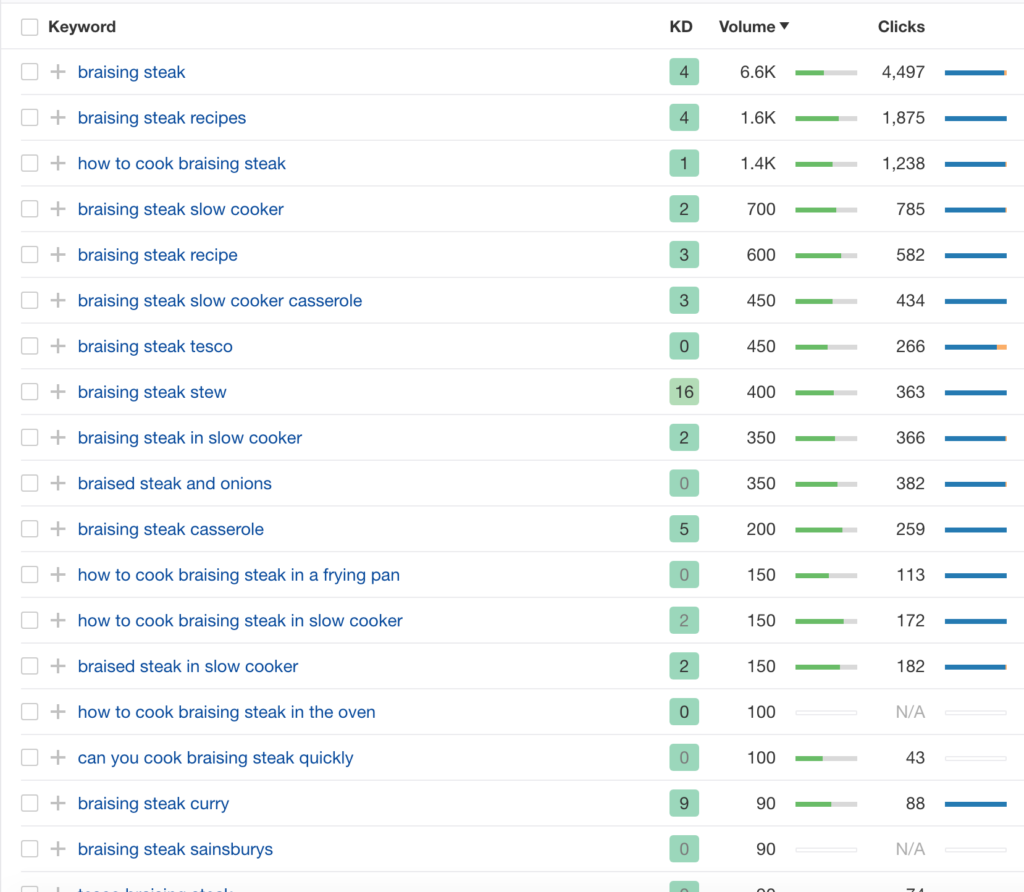 Now that I know my niche and have plenty of search terms to target, I can start building the website.
www.braising-steak.com
The first thing I did was register www.brasing-steak.com.

A key factor of this project is that I want to keep development time to a minimum, no coding or spending a week designing the website. I installed WordPress with twentynineteen on my local server and started by creating a first raft of page titles: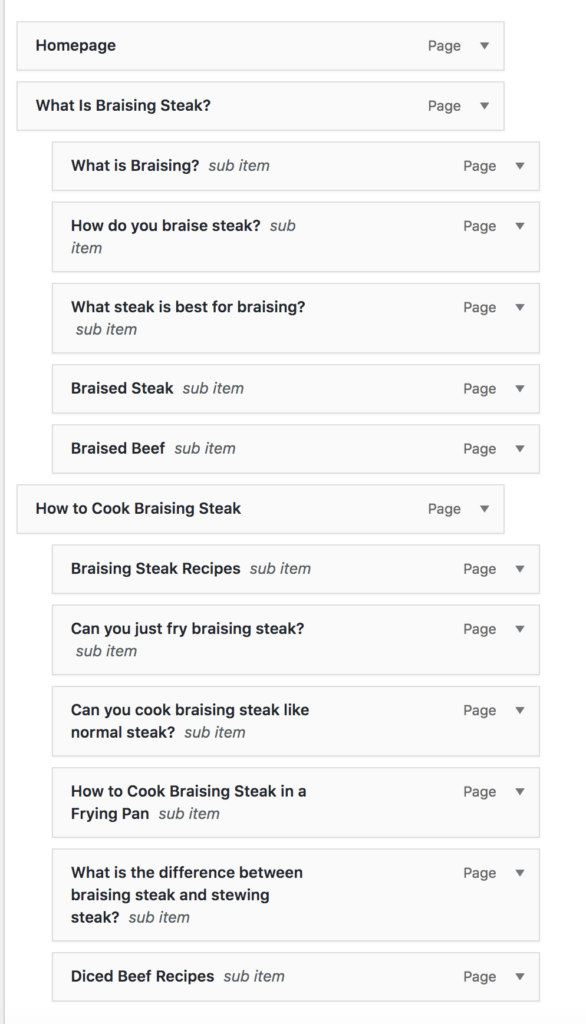 All these pages appear on the front end, although empty for now.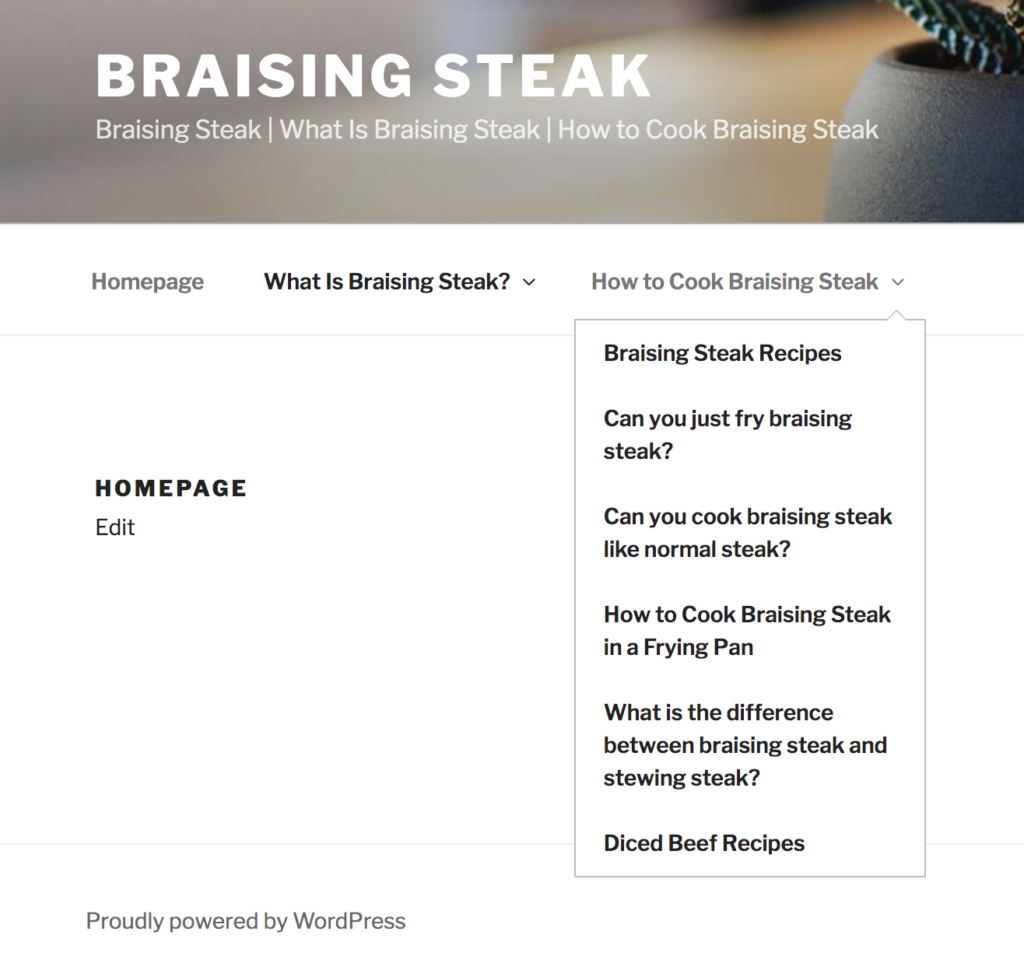 Populating the pages
The next thing to do is fill the pages with content. For the purposes of the experiment, it's important that I don't become an expert on braising steak but only write with a superficial knowledge of the subject that I've gained from reading other ranking sites (which is good, because I don't even know what braising steak is yet). Then I will upload the site, submit to Google and start trying to work my way up the rankings.