SEO stands for Search Engine Optimisation, encompassing all the things we do to drive a website up the Google rankings. But when you hire an SEO agency what will they actually do to boost your website? This article is a rundown of what we do to help sites climb the rankings.
How Google Works
When you search for something online, Google has to find the most appropriate results for you based on relevance and authority.
Relevance is simply finding pages about what you're searching for. For example, if you search for "goldfish", then pages about goldfish are relevant to you and pages about hang gliding (or whatever else) are not. If you have lots of links to other pages about goldfish and answered questions about goldfish, Google will consider you even more relevant.
Of course that still leaves hundreds of thousands of relevant pages, so Google will choose which ones go at the top based on authority, which basically means how many other sites are linking to yours. If your page has 1000 inbound links, Google will consider it more of an authority than one which has only 100.
Keyword Research
For more information on keyword research, read Finding an Online Niche for Your Business.
Now we know how Google works, we need to do our keyword research, and for this we need SERP Tools (search engine results page tools) such as Ahrefs and SEMRush. Let's see why keyword research is so important:
Let's say I make artisan garden gnomes. I could optimise my page (see on-page SEO) for artisan garden gnomes and wait for the business to roll in, right?
Wrong. Because no-one is searching for artisan garden gnomes, as SEMRush shows us.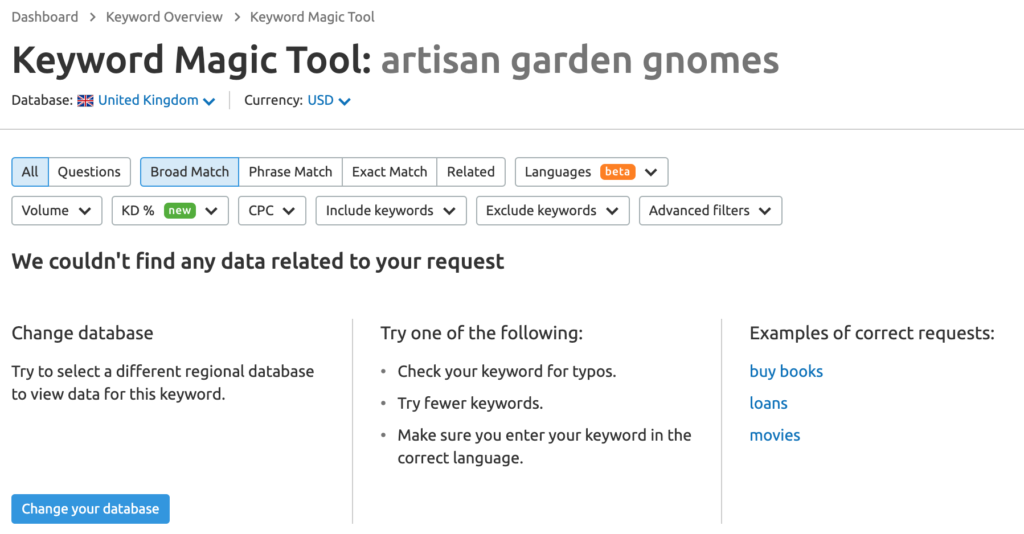 If we search just garden gnome, SEMRush gives us some more useful suggestions: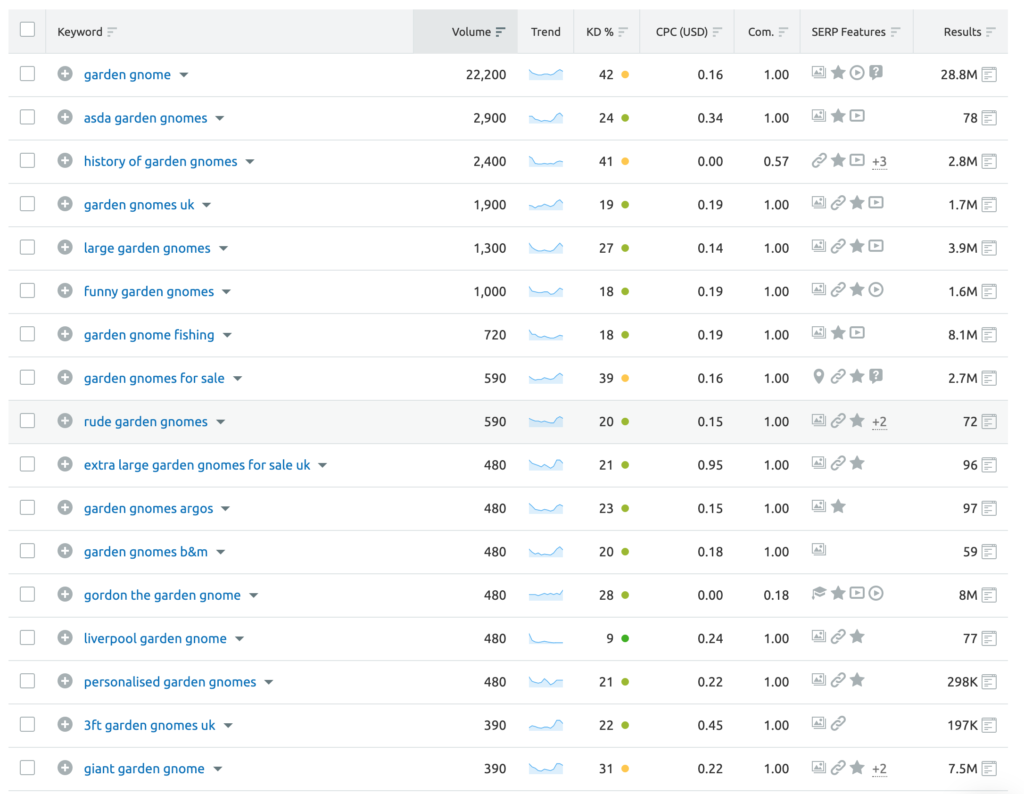 Straight away we can see some good opportunities for our gnome business. Funny garden gnomes gets 1000 searches a month, garden gnome fishing has 720 searches a month. Both have a low difficulty score of 18, which is SEMRush's estimate of how competitive that term is, which translates into how many inbound links you will need to compete for this term.
So we might create a page on our website for funny garden gnomes and another page for garden gnome fishing which are optimised for those searches and show our relevant products.
Once we know what we're optimising for, the next step is on-page SEO.
On-page SEO
On-page SEO means ensuring our keywords are positioned in the right place on our page and that the page contains plenty of useful information about the topic that will cause Google to rate it highly for relevance.
Title tag, URL etc.
A webpage has a particular technical structure, and your keyword or keyphrase has to appear in the URL (the page address), the Title Tag (the text that appears in the browser tab), and should have an <h1> tag which is also your chosen keyphrase. Don't worry if that all sounds a bit technical, the takeaway is that your keywords have to go in certain specific places.
Keyword-rich text
We need to have plenty of text on the page for Google to consider it relevant to the search we're targeting, and that text needs to contain our keywords frequently without feeling that we're 'keyword stuffing'. What a tightrope. Google's advice is to ensure that your content is high-quality and genuinely useful to humans, and to trust that their algorithm is smart enough to figure that out and reward you with a high ranking.
Images
Google prefers pages with images that are relevant to the search, so good images (and videos if possible) are really important.
Links
If our webpage has links to other resources on the internet that are also useful to anyone searching for our keyphrase then it's more relevant, so try to also find some other pages you can link to that will also be useful to your users. Ensure links away from your site open in a new browser tab so the user doesn't completely navigate away from your site.
Q+A
Google loves answered questions as many people who search are looking for information, so a Q+A section on your page will help you to climb the rankings.
Meta data
Meta data is information about your page that is visible to search engines but doesn't appear on the page. This tells Google what your page is about, where your company is based, and how the page preview should appear when your page is shared on Facebook or Twitter.
Technical SEO
We won't go into loads of detail about technical SEO because it's, well, technical. In a nutshell there are good ways and bad ways to code websites. Good web pages load quickly, work correctly and are accessible to all users. Bad web pages load slowly, contain broken links and don't contain supporting information for (for example) visually impaired users. Google likes good pages and will favour them over poorly coded pages.
There are various ways of running tech SEO reports to discover what particular issues need addressing on your website. The screenshot below is from a Google Lighthouse Audit, from my blog post 97% Performance on Google's Lighthouse Audit.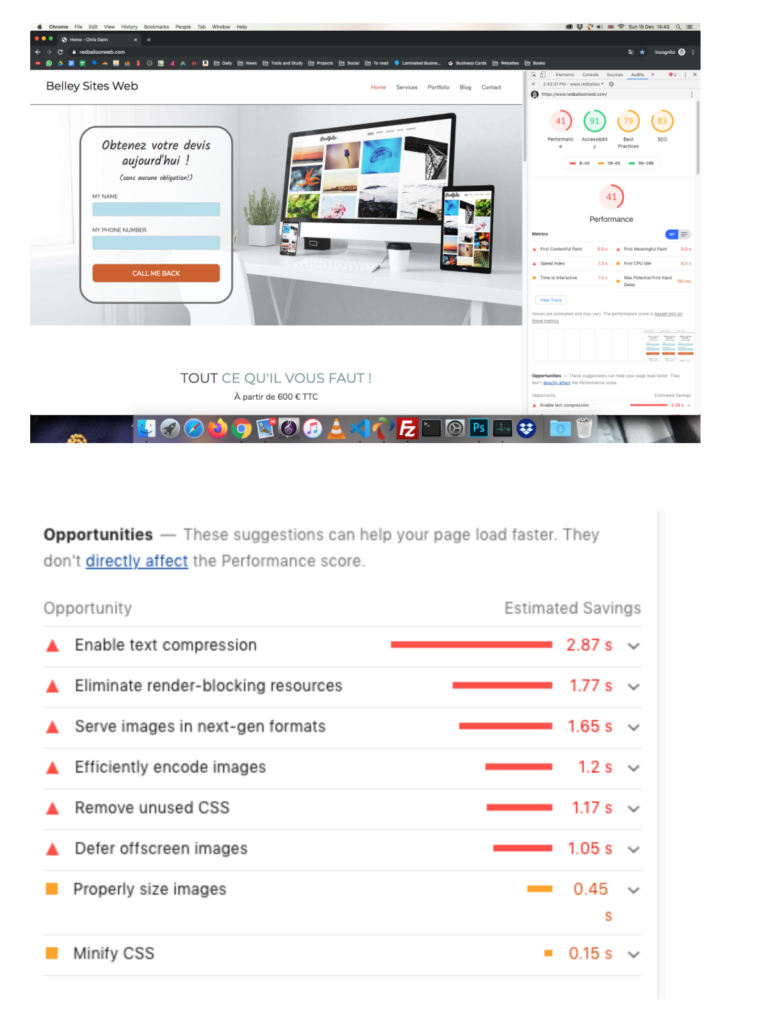 If you're using a "no-code" website tool you are to some degree at the mercy of the code that it creates – often very slow and bloated. I've seen Wix websites that score 46% for performance, which for a developer would be completely unacceptable.
Link Building
Link building is the hard work of SEO and where we have to start getting a bit more creative. In order to build authority and for Google to think our page is worth ranking high, we need to get other websites to link to it.
There are some quick wins we can do for all websites, such as listing it on online directories. Each directory is a link back to your website and an increase in authority. This is known as citation building and each listing is sometimes known as a NAP Listing (name, address, phone number).
After that we have to put our thinking cap on. Maybe we can find bloggers who are interested in our products and ask to guest post or for them to mention us. Maybe we can send them a free gnome in return for a review and a backlink. Maybe we can run a competition and get links from other local businesses and media, contact journalists to run a story on our gnomes, the list is endless and success comes down to creativity, perseverance and marketing nous.
Building links is where the competitiveness of your chosen niche and keywords becomes important. If your competitors have few or no links then outranking them will be easy. If they have hundreds of high-quality links then you'll have to work a lot harder to match them and rank.
Here's the Plug
We offer a range of service levels at Red Balloon, this is what's included with our various products:
Startup Website
With our entry package we carry out on-page SEO for your company name and basic services, so for example if you are Peter the Plasterer we will optimise for 'plasterer' and for your company name.
Business Website
With our standard business package we'll do a full SEO review and look for terms you might be able to target. For example if you are a car garage we might find that people are searching for 'MOT', 'Service', 'Tyre Change' etc, and create unique pages to target each of those individual services.
We might be able to target niches that are even more specialist, e.g. 'Reliable MOT Centre', 'Cheap Ford Servicing' and so on. The point of doing comprehensive SEO research is to identify the best opportunities for your business, based on search volume, competition, and the particular services your business provides.
Once your pages are indexed we provide a report on what position they've gone in at and the strategies we would use to gain inbound links and move them further up the rankings. You're then free to pursue those strategies yourself and build links in to your business and climb the rankings.
Ongoing SEO Services
With ongoing services we will do the same as above in researching your current position and online opportunities, then work to build the links in to your site ourselves by creating quality content if necessary and then building inbound links to your site.
Every month we'll assess your ranking positions and opportunities and keep working to build those links and content and climb you further up the rankings. It's very rare that a page or business can rank high straight off the bat. With our website services we aim to give you everything you need to put in the work and climb the rankings, and with the ongoing service we do it for you.
Want to talk about your SEO? Give us a call on 0800 048 7608 and let's start making the web work for you.