Nearly all website owners hope that their site will be well-positioned on Google. For most, this begins with "on-page SEO" or "natural SEO".
On-page SEO simply means all the things we can do on the page itself, as web developers or content writers, to improve our page's status in Google, as opposed to off-page SEO which means getting people to link to our page.
In its simplest terms, if the word "lawyer" appears often on your page, Google will know to index it for the search term "lawyer" and to consider your page when people search for "lawyer". It doesn't mean we'll come high up the rankings – not yet – but it means we're starting off in the right place.
There are 2 steps to take when carrying out on-page SEO. 1. To carefully choose the right keywords to target, and 2. To use them correctly on your page.
1. Choose the right keywords
The first step is to understand what our clients are searching for. The words that we might use to describe our business are frequently not the same ones our potential customers might use to find us, so we need to be able to see through our customers' eyes.
Fortunately there are various tools available to help us understand what our potential customers are looking for. Here's an example using Google's own keyword tool:
Let's imagine I'm a roofer in Essex who does roofing and roof repairs. I go to the Google keyword tool and first set my location as Essex, since it doesn't really matter to me what people are searching for in other locations.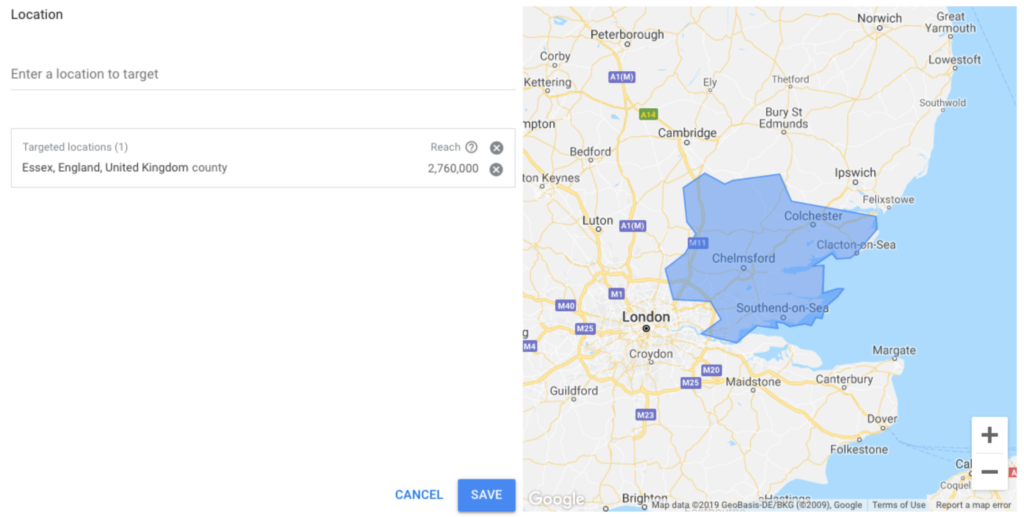 Next we'll put in some broad keywords – "roofing" and "roof repair".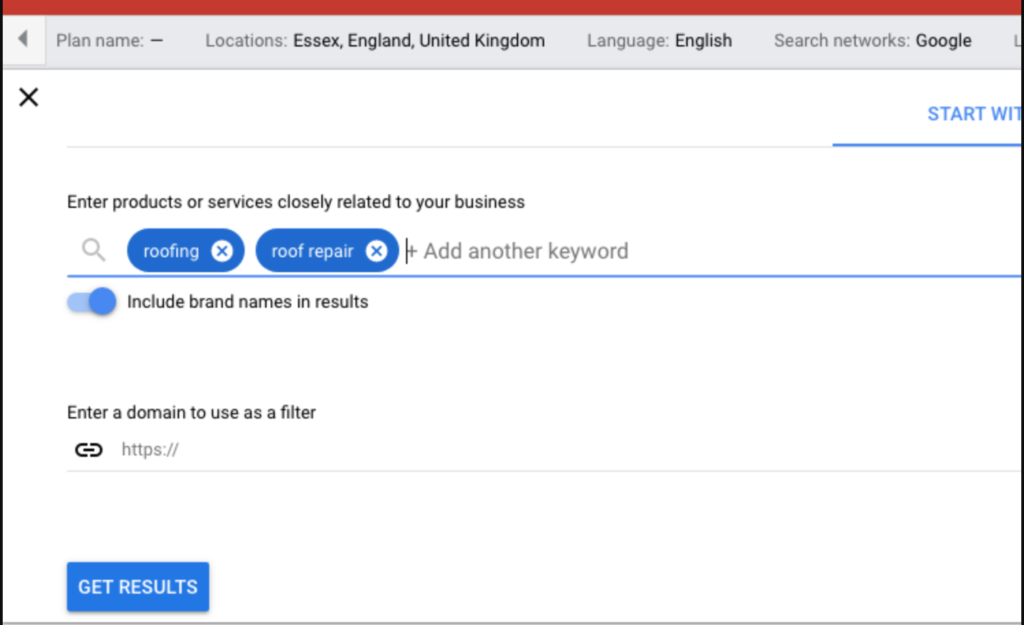 Google will provide us with a list of associated keywords which people are actually searching for, along with the search volume and competition for those keywords.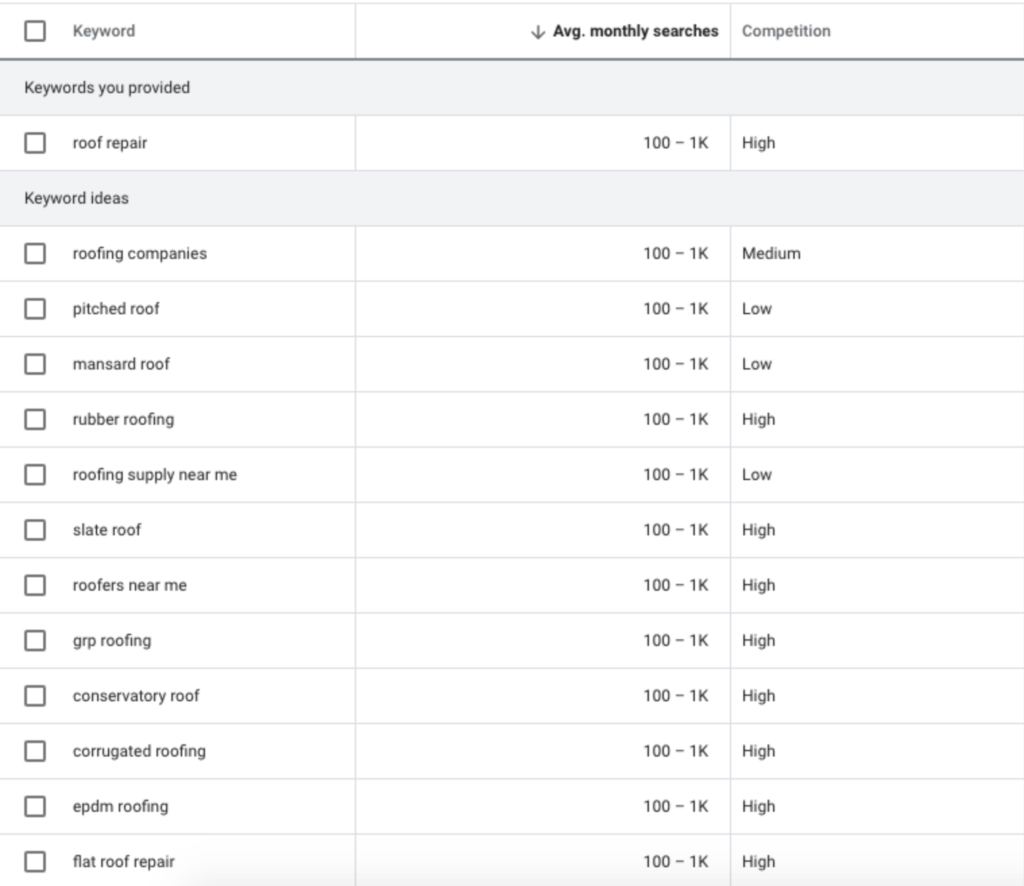 As we can see, many users don't simply search for roofing, but are more specific in searching for the kind of roof they are looking to have installed or replaced: "pitched roof", "mansard roof", "slate roof" and so on.
When designing our page content for SEO, we can take advantage of this by making sure that the popular search terms which correspond with my roofing services feature heavily on the page. For example, instead of simply saying "we do all kinds of roofing", saying "we offer pitched roof, mansard roof and rubber roofing services" will mean Google is more inclined to consider us for these searches. A company could go a step further by having a separate page or page section for each of these categories, with a subheading of "pitched roof" and some information about pitched roofs, where the keywords feature a few more times, further increasing its attractiveness to Google for these terms.
2. Put the keywords in the right place
Once we've chosen the right keywords, we now have to put them in the right place on the page. Let's take a look at Travel Supermarket's "car hire" page, which tops the rankings for the term "car hire".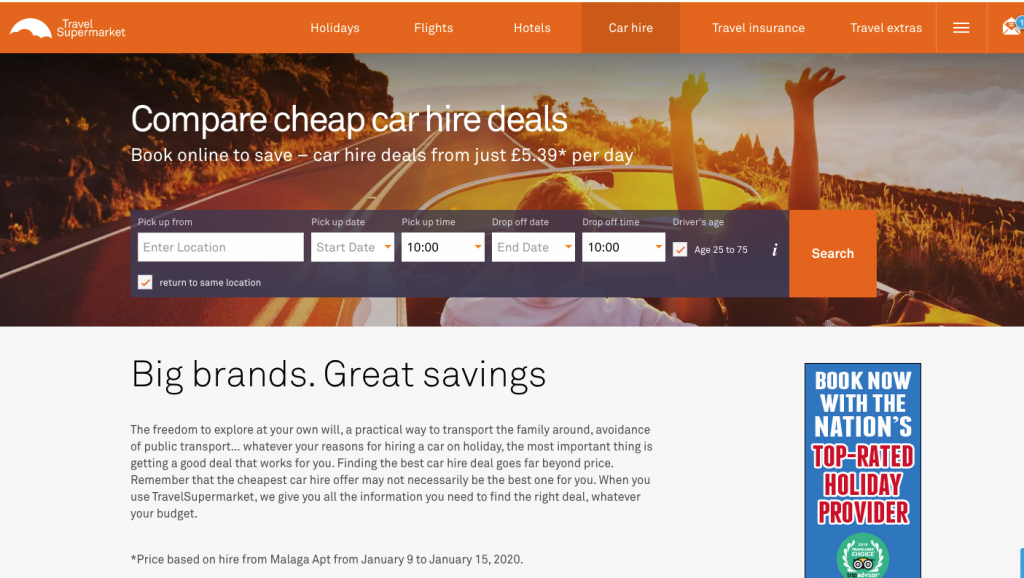 When Google looks that the page there is a hierarchy of places it will look to find the key words to index that page for. First off, the phrase "car hire" appears in both the URL (address) and in the page title which appears in your search tab:


Hidden from the user, the search terms are also used in a range of metadata which the page can use to tell search engines what it's all about. This "open graph" data tells Google what the page is about and also how to display its preview in the search results.
Looking at the headline "Compare cheap car hire deals", this is correctly wrapped in an <h1> tag, telling search engines it is the main heading for the page:

Next is simply a case of liberally smattering the targeted and related keywords throughout the page. A quick search shows us that the phrase "car hire" appears 23 times on this page:
Travel Supermarket achieve this by not just offering a car hire deal search, but also offering lots of information on car hire deals that might be useful to the user. When Google looks at this page it sees not just a car hire offer, but lots of information which will be relevant to the search, so is likely to bump it up above pages which offer less information.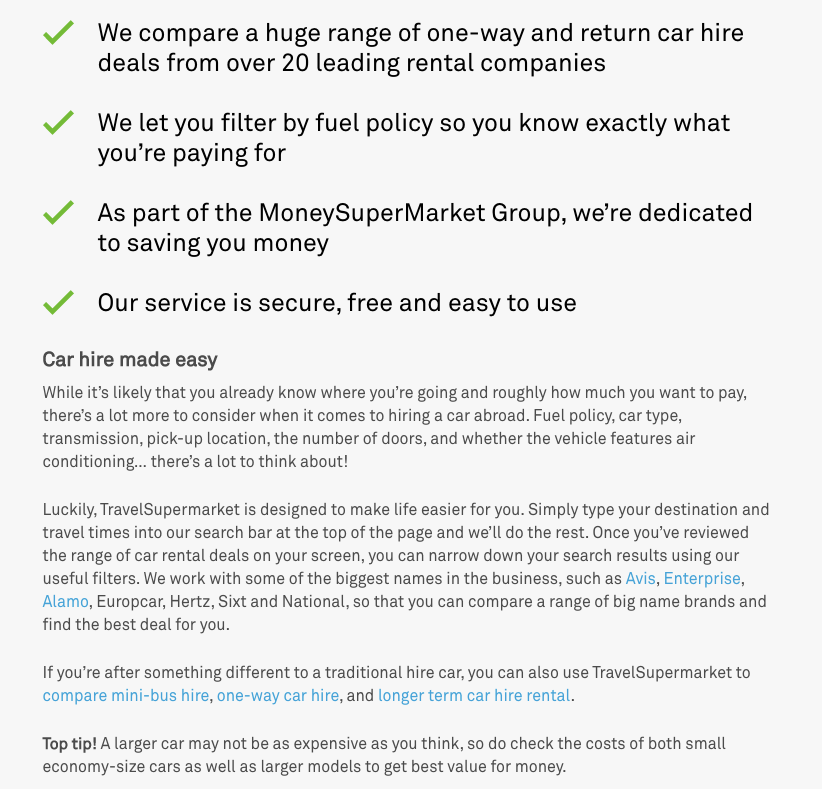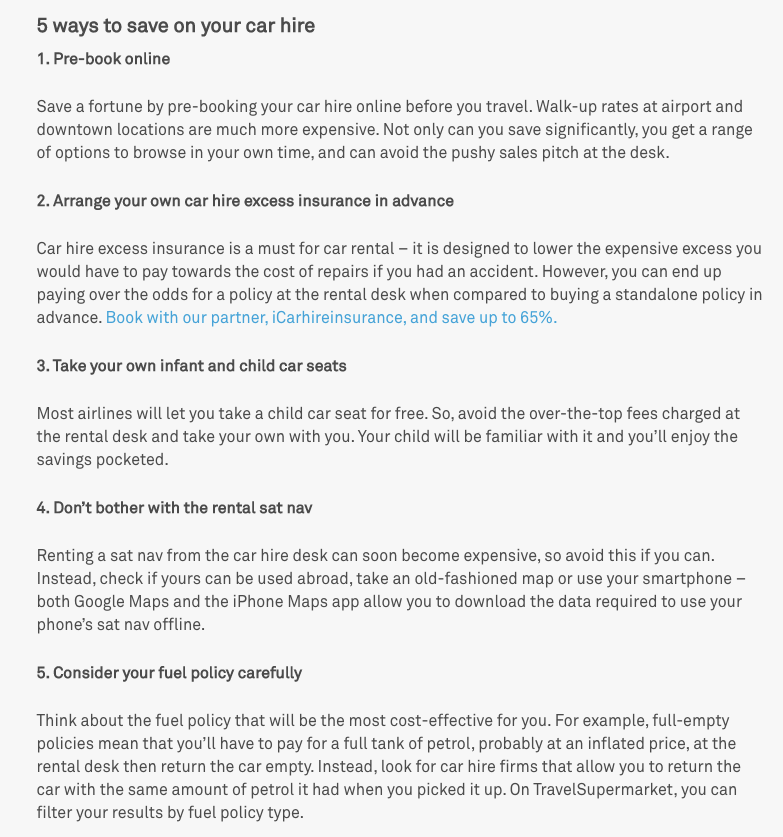 Going back to our example of the roofer, he or she might decide to structure their site with a page of information on each of the different roofing services they offer that feature in the search terms. A page on pitched roofs, for example, but with several paragraphs of information on the pros and cons of pitched roofs, some common questions answered and so on, as well as ensuring that the term "pitched roof" appears in the key places on the page such as the title, address, h1 tag and metadata.