After on-page SEO (see The 2 Steps to On-Page SEO ), the next most important factor in climbing the Google rankings is the number of inbound links to our page or site.
Imagine there are 3 articles or pages on the same subject. Google has to decide which order to present them in the rankings. If one article is linked to by 1 other site, another by 100 other sites, and another by 10,000 other sites, Google will assume that the article with the most inbound links is the most authoritative or relevant on the subject and boost it further up the rankings. A great part of what we do in SEO, then, is curating inbound links.
Note – it's possible to buy "spammy" links from irrelevant sources, but what's important is not just the quantity but the quality of your links. Getting linked to from the BBC or Wikipedia will improve your rankings much more than from a "low authority" source, and links from "link farms" will eventually do your rankings more harm than good.
So how to get more inbound links?
For most businesses, it's going to be difficult to get lots of other sites to link to yours. Imagine you're a garage. From time to time someone might link to your site saying "I found a good garage for my MOT", but it's unlikely they're going to say "Wow, a garage! Amazing!" and that lots of other people are going to be interested in resharing this amazing post.
What people share on social media, on their websites and on their own blogs, are things that are interesting or useful. Not just that there is a garage in such-a-street and these are their opening times, but articles like "5 things you should do before you have your MOT", or "How to maintain your car during the winter". These articles can be shared and reshared because they offer something useful for the reader.
And that's why you should write a blog?
Yep. It's important to always think about what could be useful or interesting to your readers. If it's interesting or useful, there's more chance that it will be shared. The more it's shared, the higher it, and by association your site, will appear in the search rankings. Of course, you can (and should) also put useful information on your main site, but in general we want to make sure that on the main pages our users can quickly find information about what we do, opening times, prices and so on, so there's less screen real-estate to go into detail or not-immediately-relevant information. That's why a blog is so useful.
Of course there's no point having a blog if no-one's going to read it, so you'll have do to a little promotion as well. If you have a Facebook page (see 5 Rules for Growing Your Business Using Facebook) then you can begin by sharing it with your followers and asking them to reshare it if they find it useful.
You can also get in contact with other pages, websites or publications who might find your content useful. For example, the garage could send a link to its article to sites for car enthusiasts, maybe combined with a special offer of 10% off or similar to make the whole post more attractive for the 3rd party to publish.
But what do my audience want to know?
If you're stuck for what people might find useful or interesting, have a look at answerthepublic.com. You type in a search term or keyword (up to 3 free searches per day) and Answer The Public will show you real life queries that people are typing into Google surrounding that term. This is my search for "MOT".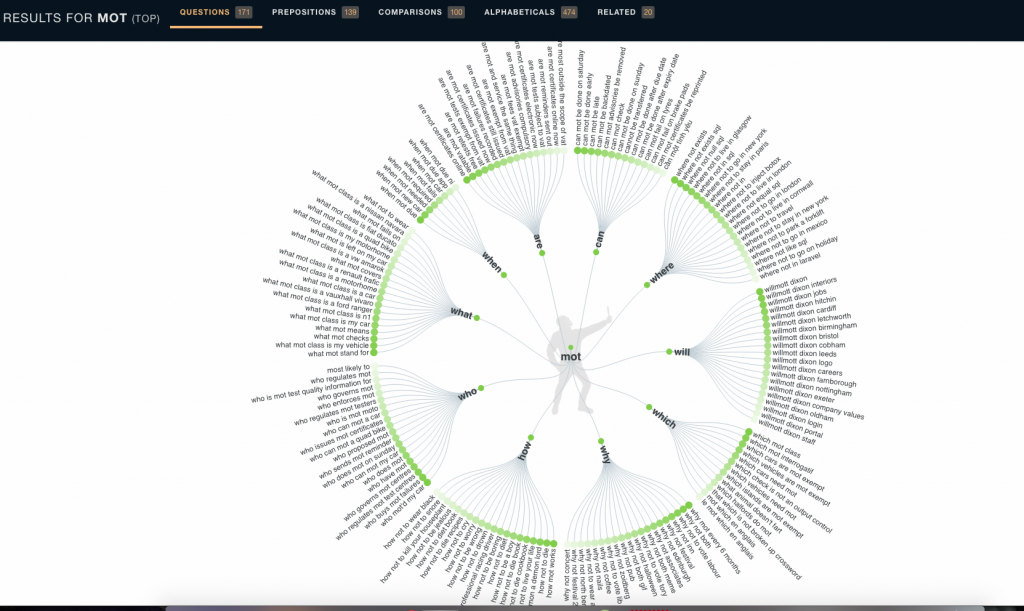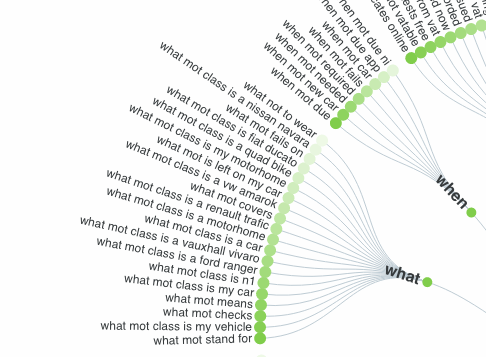 Straight away a few ideas for blog posts around MOTs are obvious. "The 5 most common MOT fails", "What is covered by your MOT", or "MOT classes explained". Here we know we're onto a good idea for content, because these are searches that people are actually making in real life.