In this post we'll look at finding great terms to optimise your business website for, based on real search data from the SEM tool Ahrefs.
Why this is important
I recently did a free website review for a car garage. They were ranking 4th or 5th for searches for garage and MOT in their area, the most popular searches for their particular services. Given their off-page SEO factors they could have easily been coming first and completely dominating the Google search, but instead of being optimised for searches like "garage" and "MOT", their website had no SEO strategy and their keywords were off-target, so they were leaking traffic and sales to their competitors.
When we're creating web pages that we want to rank in the search engine results, we need to find the right search terms to target with our on-page SEO. If we get it wrong we will always be low down the Google results, but if we find the profitable niches first and target them intelligently, we make the task of coming top on Google a lot easier. In this post we're going to see how to identify those niches and find the best keywords for our business.
Keyword Ideas
Let's say our client prints business cards and is looking for online niches to exploit. In Ahrefs, we start out with a generic search for "best style of business card".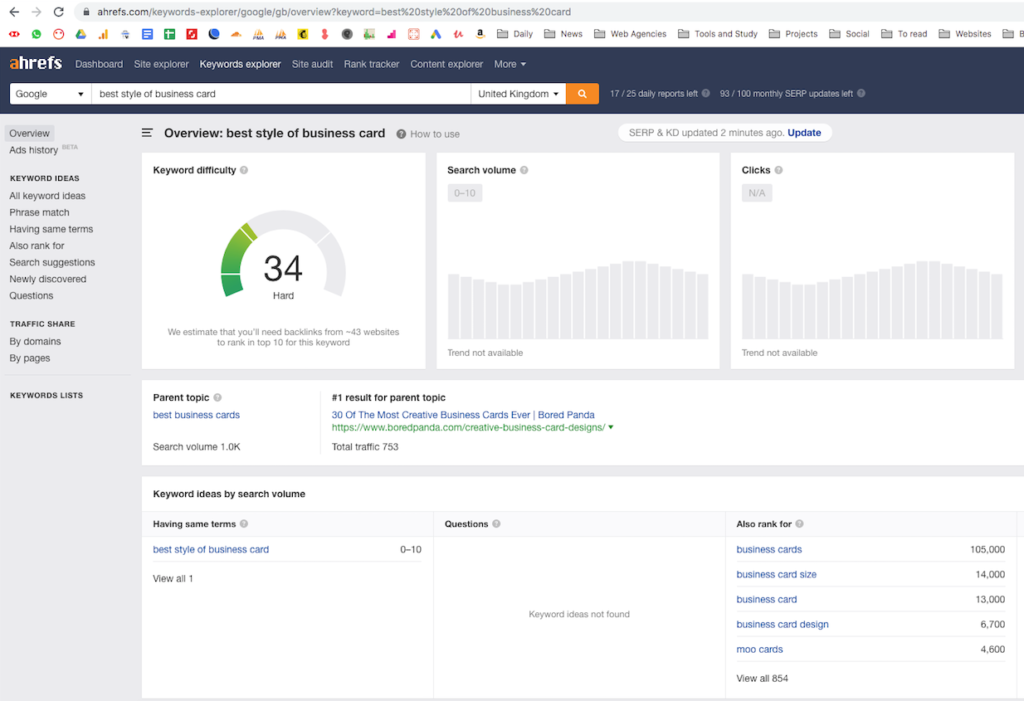 We want to get ideas for related keywords we can target, so we click on one of the options on the left. We have various options which we can use given on how we want to search. In reality we'll probably explore them all to see what they bring up.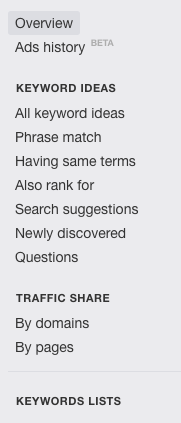 All keyword ideas will give us all related keywords, phrase match will return results where our search phrase appears intact, having same terms will return results with our search phrase but not necessarily with the words in the same order, also rank for will show the other search terms that rank for our search terms also rank for (great for finding related fields you might not have thought of), and search suggestions will use Google to suggest keywords in the same way as answer the public, which I talked about in this blog post.
Using all keyword ideas we get the following list of keywords: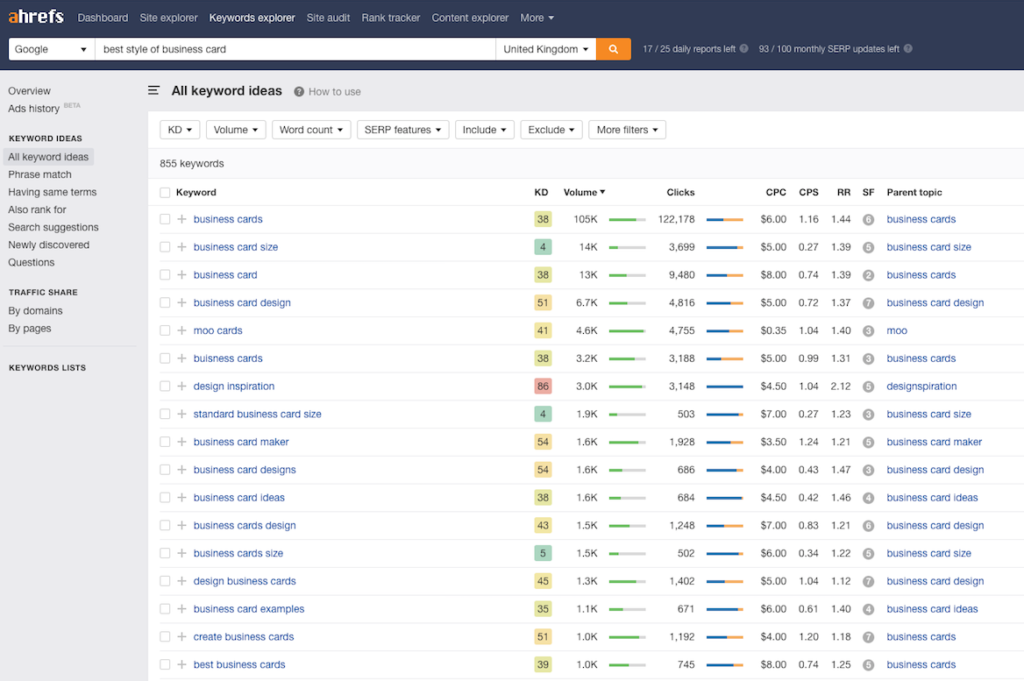 The key metrics here are the first two, keyword difficulty (KD) and search volume. The higher the volume of searches the more clicks we will get once we rank high, but the higher the keyword difficulty the more work we will have to do to get there in terms of link building, domain authority, etc. The more searches the better, the lower the difficulty the better, but it will depend on the strengths of our client's particular business to decide how low a search volume or how high a difficulty is still going to be worth us going after.
If we sort the results in ascending difficulty, we get the searches that will be easiest to target: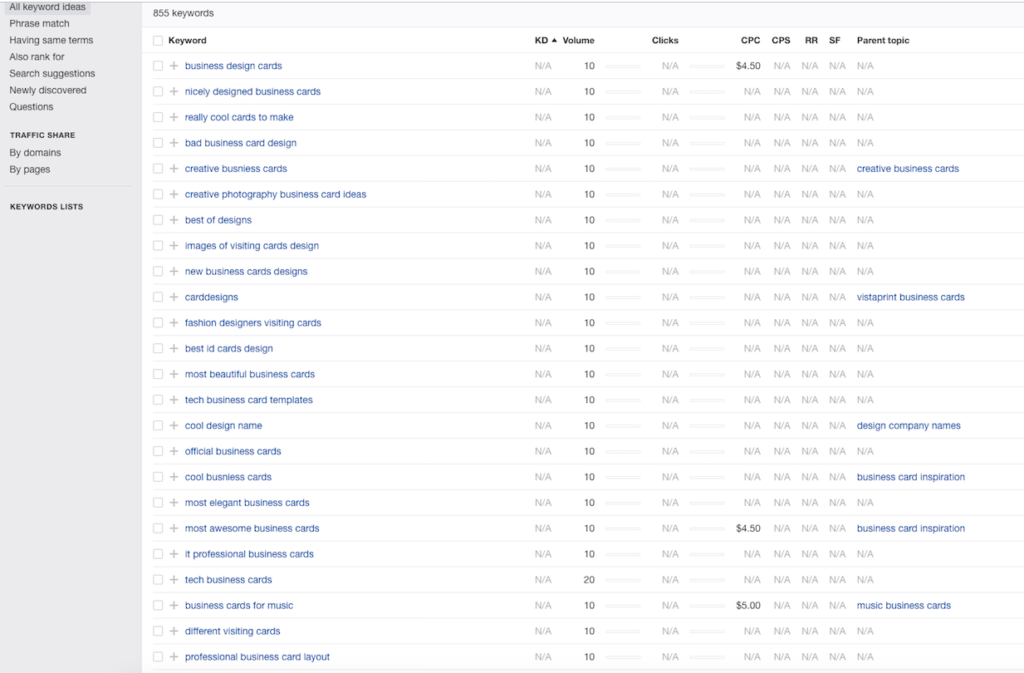 Most of these low difficulty searches are also too low volume to be worthwhile, but Ahrefs also shows us parent topics – less specific searches which could be seen as category headings for the child topics. Let's try 'business card inspiration'.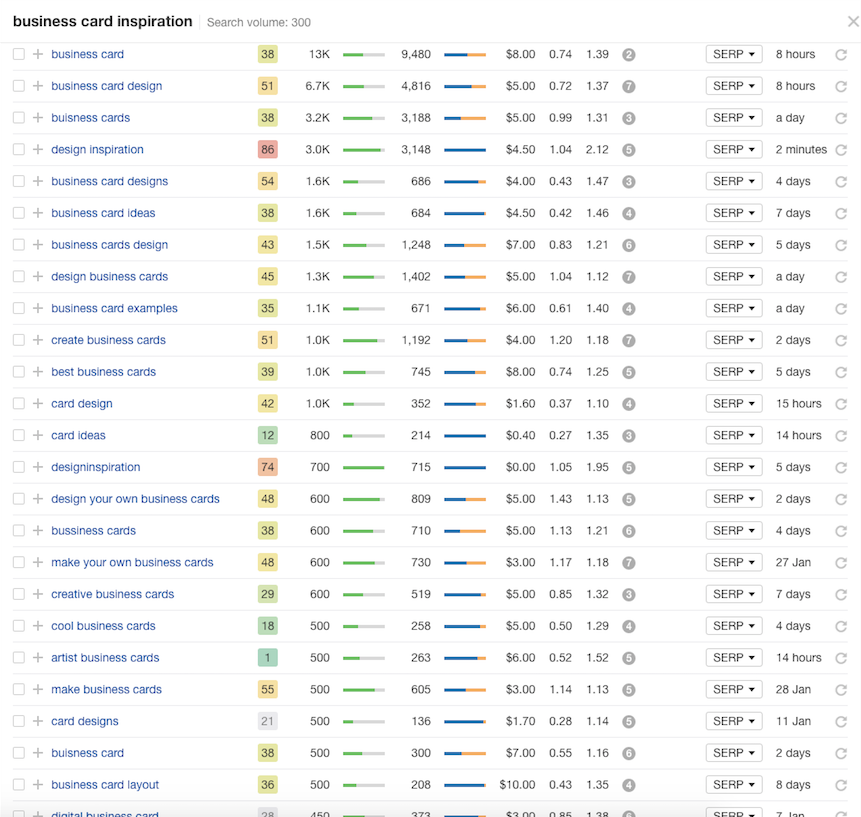 One that stands out here is 'artist business cards', which has 500 searches a month but a keyword difficulty of only 1, meaning ranking for it should be extremely simple. Let's drill down on that.
Examining the search term
By clicking through on that particular search term, Ahrefs lets us examine it a bit further: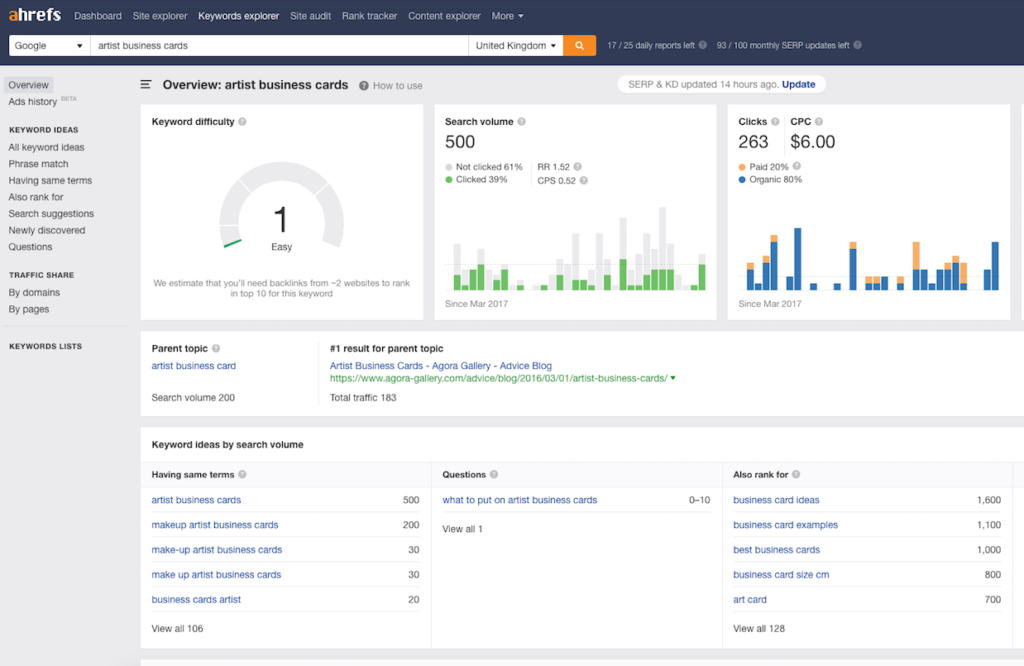 Here we see that we would need inbound links from only 2 websites to rank our page in the top 10 (this is always approximate) and that of the 500 searches, 39% resulted in a click. We can also see that 20% of the clicks were on paid ads and 80% on organic. This first statistic is particularly important – there is no point optimising for a search term which results in lots of searches but few clicks, but we might also conclude that a lower click rate means the results are not currently providing what these searchers are looking for and see an opportunity.
Scrolling down, we can see who is currently ranking for the term and investigate further.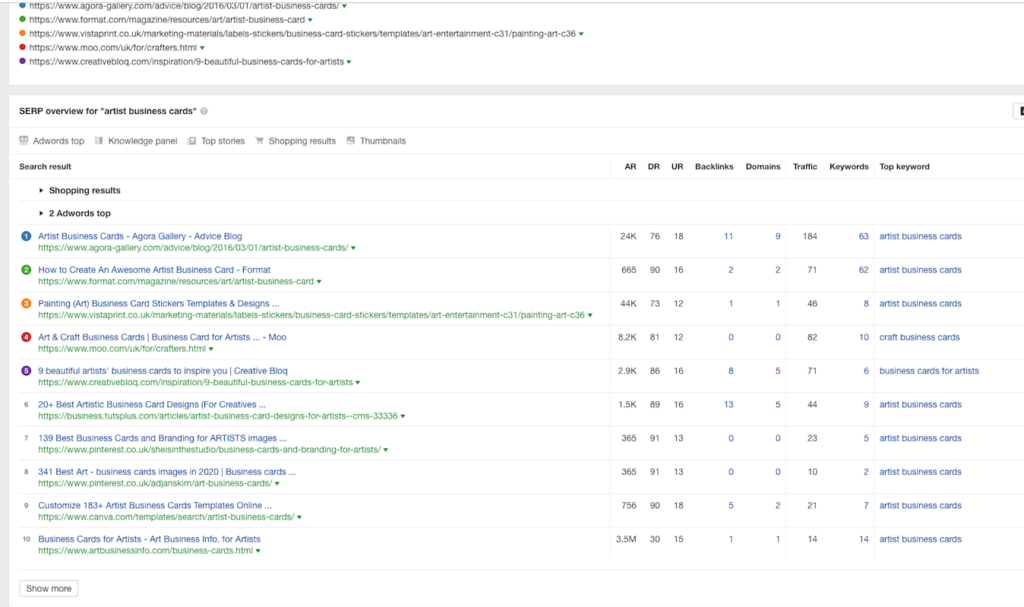 Most of these results are not targeting artists who want business cards, which is where I would assume most of the searchers are looking for, but are blog posts showing galleries of business cards or 'how to create an artist business card'. There is one result for actually making business cards for artists, from Moo.com, which has zero inbound links and is not aimed just at artists but at 'art and craft business cards'.
All this information suggests that if our client were to create an 'Artists business cards | business cards for artists' page and optimise for these search terms and artists who wanted business cards, there would be an easy opportunity to gain some traffic with just a few inbound links to boost the page in the rankings. We would suggest this to our client in an SEO report along with our other recommendations and findings.
A contrasting example
Take a look instead at the phrase 'designer business cards', which has a search volume of only 150, and a keyword difficulty of 55.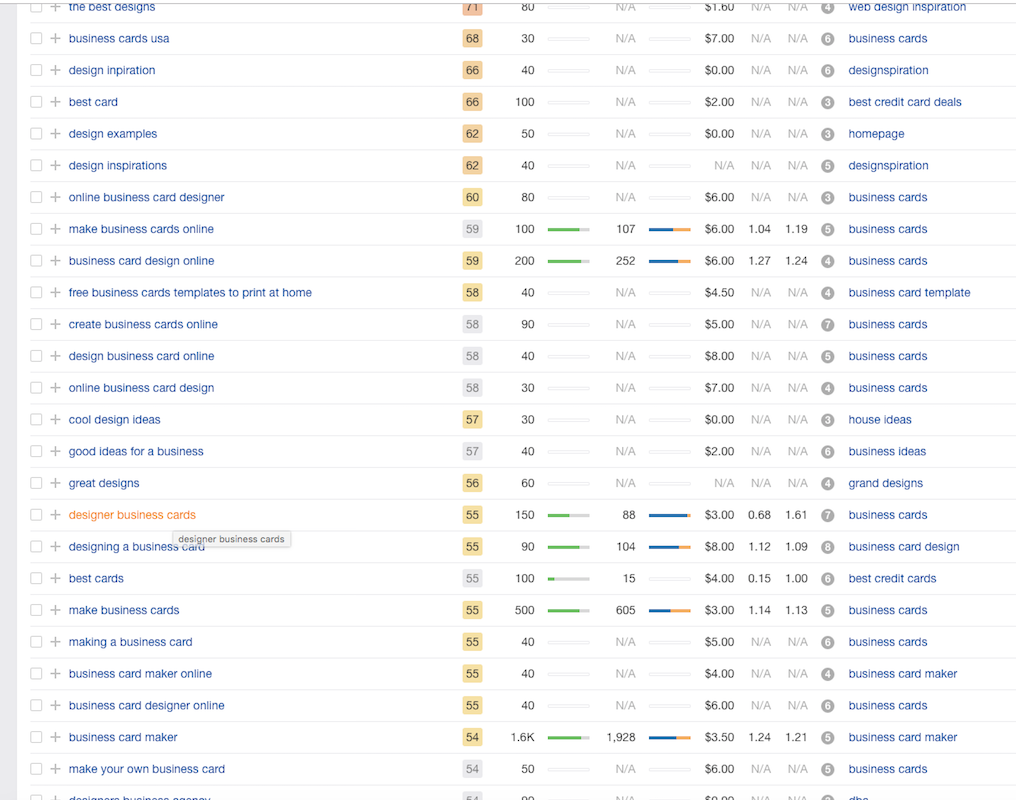 Clicking through we can see that we would need backlinks from approximately 103 websites to target this very low-volume search.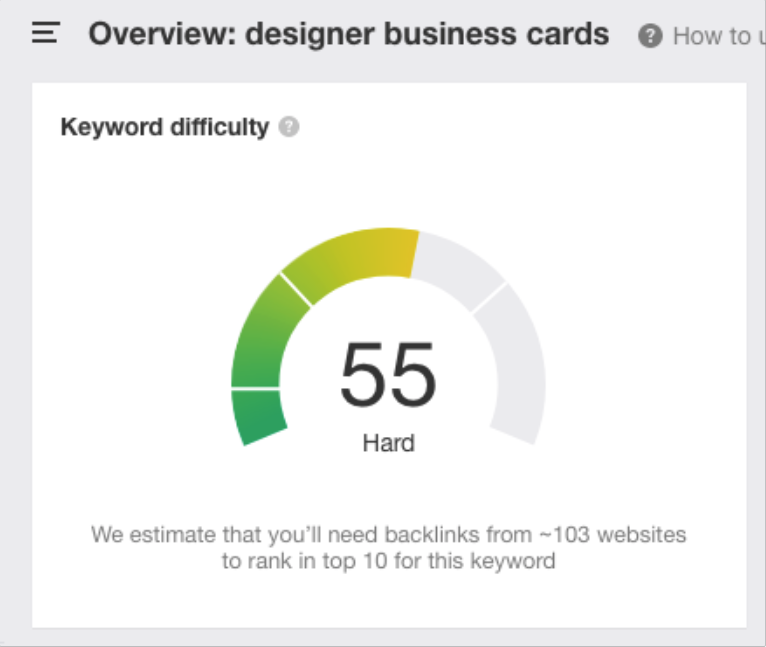 What does that mean?
If we were a business card printer picking what to put on our page randomly, 'designer business cards' might as good a choice than 'artist business cards' or anything else. It's essentially a random choice based on our whims and intuition. But using SEM analysis we can see that we would have to get 100 backlinks to target a search volume of 150 per month for that term, whilst we can target a search volume of 500 per month using 'artist business cards', with a minimum of inbound links. 'Artist business cards' is therefore a vastly better niche to target.
Like my garage owner, if we don't search and analyse for the terms to optimise our pages for, we risk missing the target; either targeting terms which have little or no search volume, or are impossibly difficult. With proper analysis, we make the most of our resources and target searches intelligently and reasonably, maximising our web traffic and sales.