I am not affiliated with any of the websites or services listed in this post
You know you need SEO for your business, but many agencies are out of reach of the typical startup business. The good news is that most of the cost of SEO doesn't go into highly specialist knowledge or tools, but into time. If you have the time and ready to put in some work, you can optimise your own site and keep building your knowledge as you go along. Just follow these 8 steps and you'll soon be SEO-ing like a boss.
1. Education, Education, Education
If you're going to do your own SEO, you're going to need to know what you're doing. The basics of SEO don't change very much, and the theory really isn't that difficult if you don't mind a bit of reading and learning, and fortunately there are plenty of free resources around.
Exposure Ninja are a great place to start. You can download their book "How to get to the top of Google" for free, and they also have guides and videos on all aspects of digital marketing. They also do a free marketing review, and if you're brave you can sign up for a "website teardown" and have your site critiqued live on YouTube.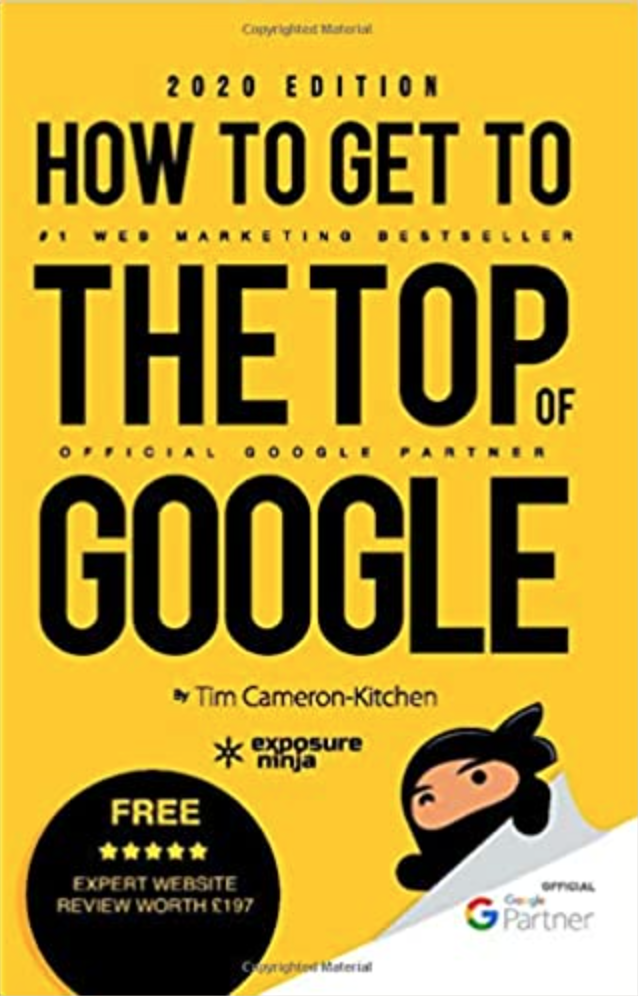 You'll need to be able to play around with some SERP (search engine results page) software. There are many of these, the most famous of which are probably Ahrefs and SEMRush. Typically these services cost around £50-£100 per month, but most of them have a free trial period which allows you to play around with the software and get used to how SEO works. At the moment Ranking Coach, Mangools, Rank Ranger, BuzzSumo and Ahrefs all have free trial periods with no obligation to continue. Diving in to these tools and exploring is the best way to start making sense of SEO.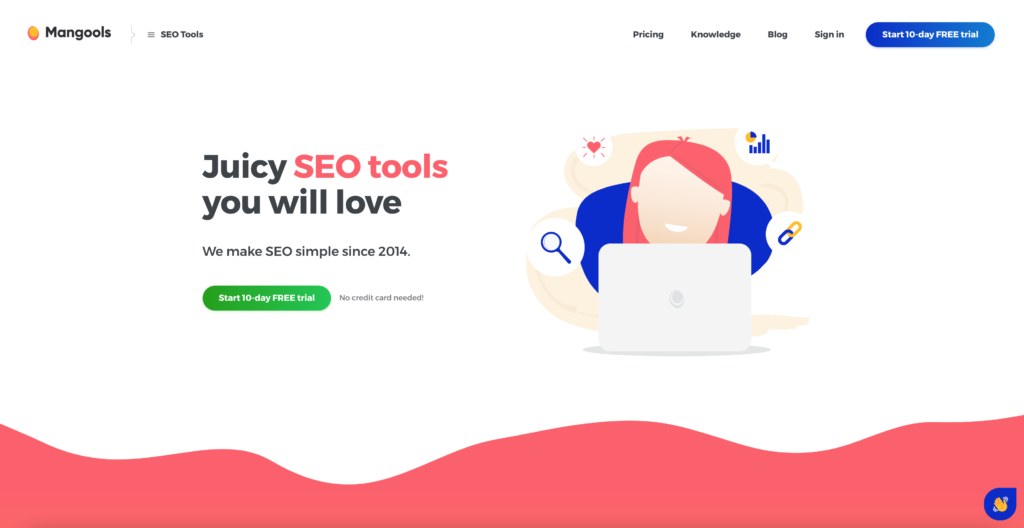 To learn how to use all these tools there are some brilliant video courses online. Ahrefs and SEMRush both have their own free video courses on how to use their platforms – Ahrefs SEO Academy and SEMRush Academy. Both are really good and will even certify you at the end.
If you don't mind spending ten pounds or so on a course, I also recommend the complete digital marketing course on Udemy. The way Udemy works is that courses are regularly on sale, so if it shows £200 at the moment, keep checking back. Within a week or two it will be £12.99.
Local SEO is a slightly different discipline, and while it's covered in other courses the Brightlocal Academy is a brilliant free local SEO course, and my favourite local SEO platform. They also currently offer a 14-day free trial so you can use their tools while you go through the course.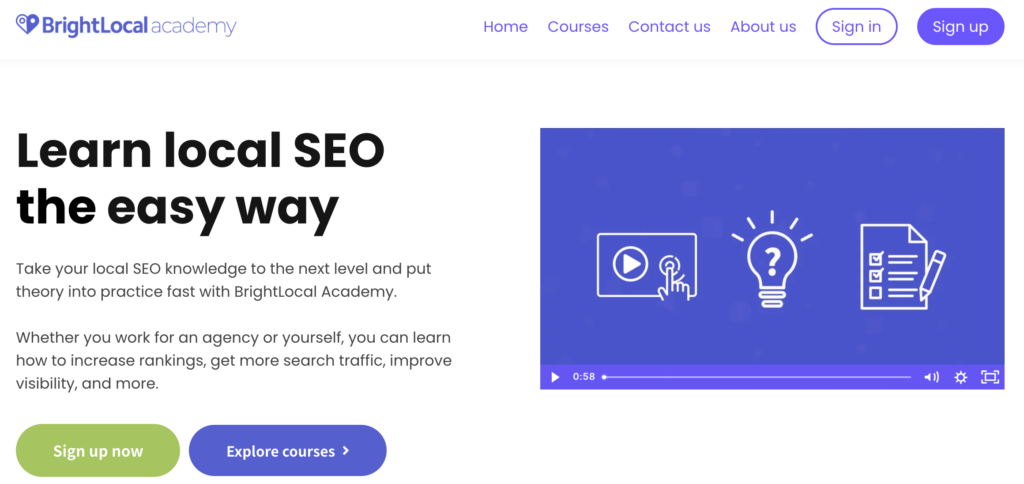 Have a read of my blog posts What Are SEO Services? and Local SEO Services. These will give you a quick overview of what we do to promote businesses online with SEO, so you know what you're aiming to do yourself. You can also claim our free web review, which includes SEO assessment and advice.
Last but definitely not least, you can get it straight from the horse's mouth. Google Search Central offer stacks of free advice and a blog on best practices, algorithm changes, etc. The information can be a little more technical than the other free courses, but they also have content for non-technical business owners on understanding SEO.
2. Claim and Optimise Your Google My Business
Google My Business (GMB) is a free service that Google provides for all businesses, but especially local businesses. It allows local businesses with a small budget to get a web presence for free, to garner reviews and to come high up on Google in their local area.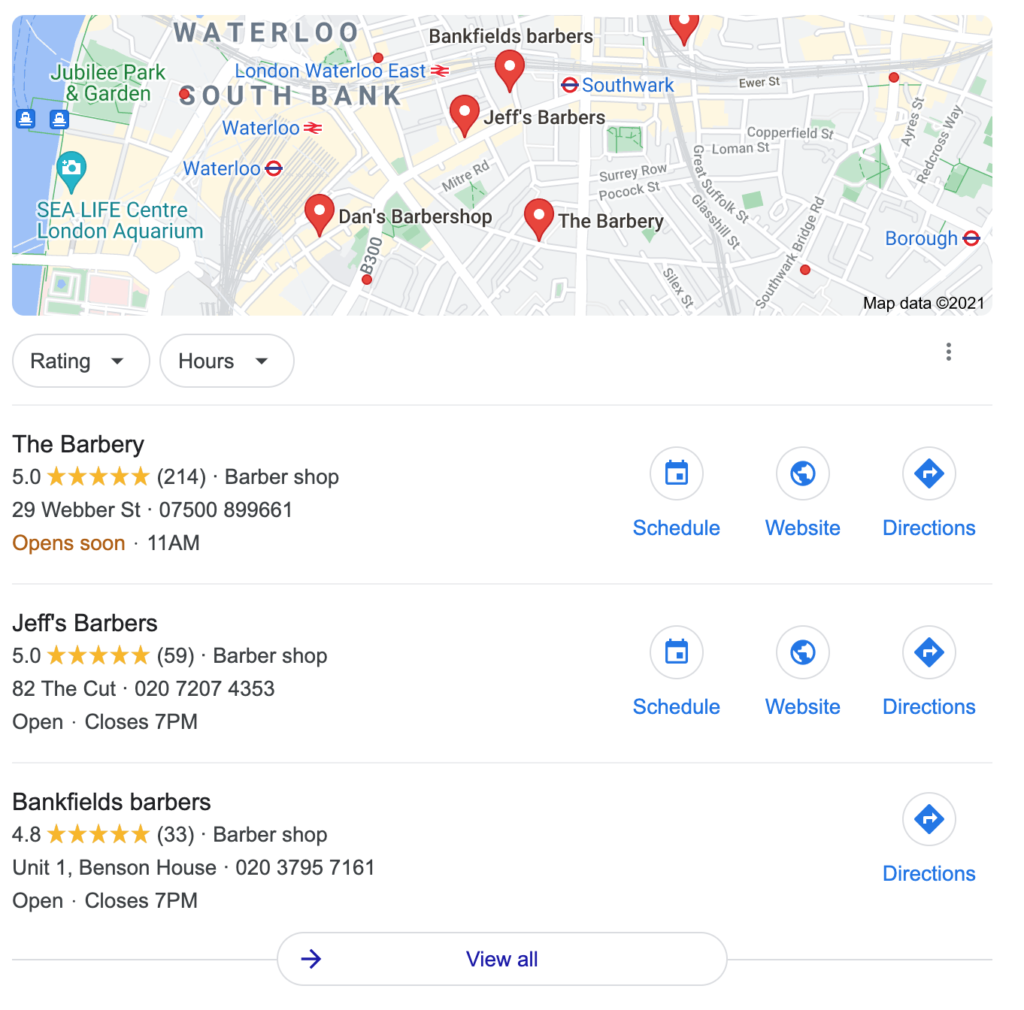 A well-optimised GMB with good reviews will also boost your website ranking on Google as these are trust signals which Google will use to judge that you are reputable, and safe for them to recommend your website, so it's an easy win.
GMB is designed for non-technical business owners to use. You can add your business quickly and easily and start appearing in searches straight away. Just follow this link to get started.
The mistake many business owners make is thinking that after filling out a few bits of information their GMB is now finished and no more work needs done. Google ranks well-completed profiles higher, so add photos, opening times, your products, and anything else GMB will allow you to. The most important GMB field is your business category. If you don't fill this out correctly Google won't know what searches to return you in.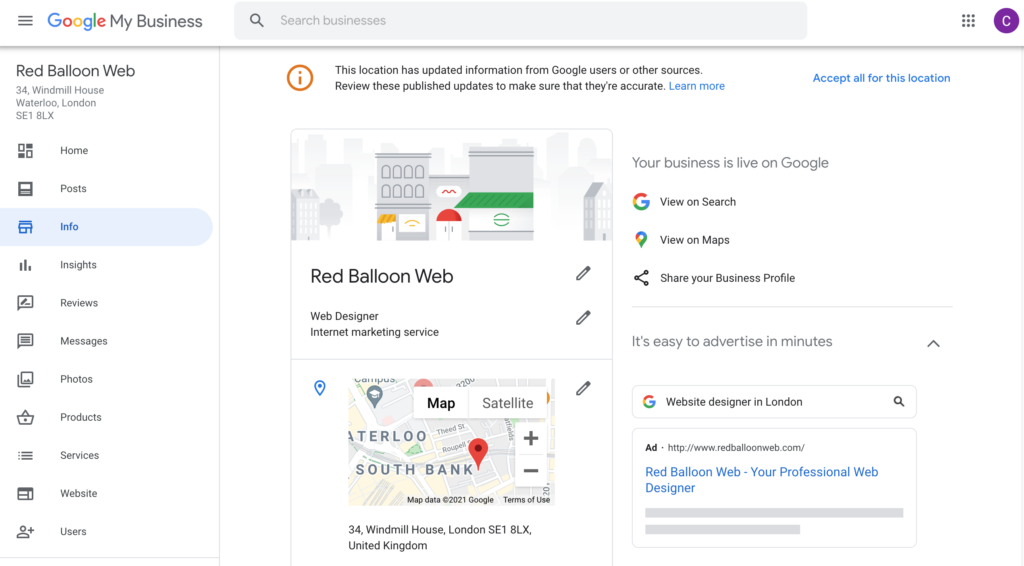 You can find many GMB optimisation checklists online, like this one, and Brightlocal also offer a free GMB optimisation video course.
3. Build Your Citations
A citation in SEO is not a quote from someone but a listing on a business directory website. Normally these are what are called NAP Citations, meaning they contain your Name, Address and Phone number.
Business directory websites are really low hanging fruit for a new website which wants to pick up its first quality inbound links. Most have a high domain authority and you can register for free. Aim to build around 100 backlinks from business directory sites.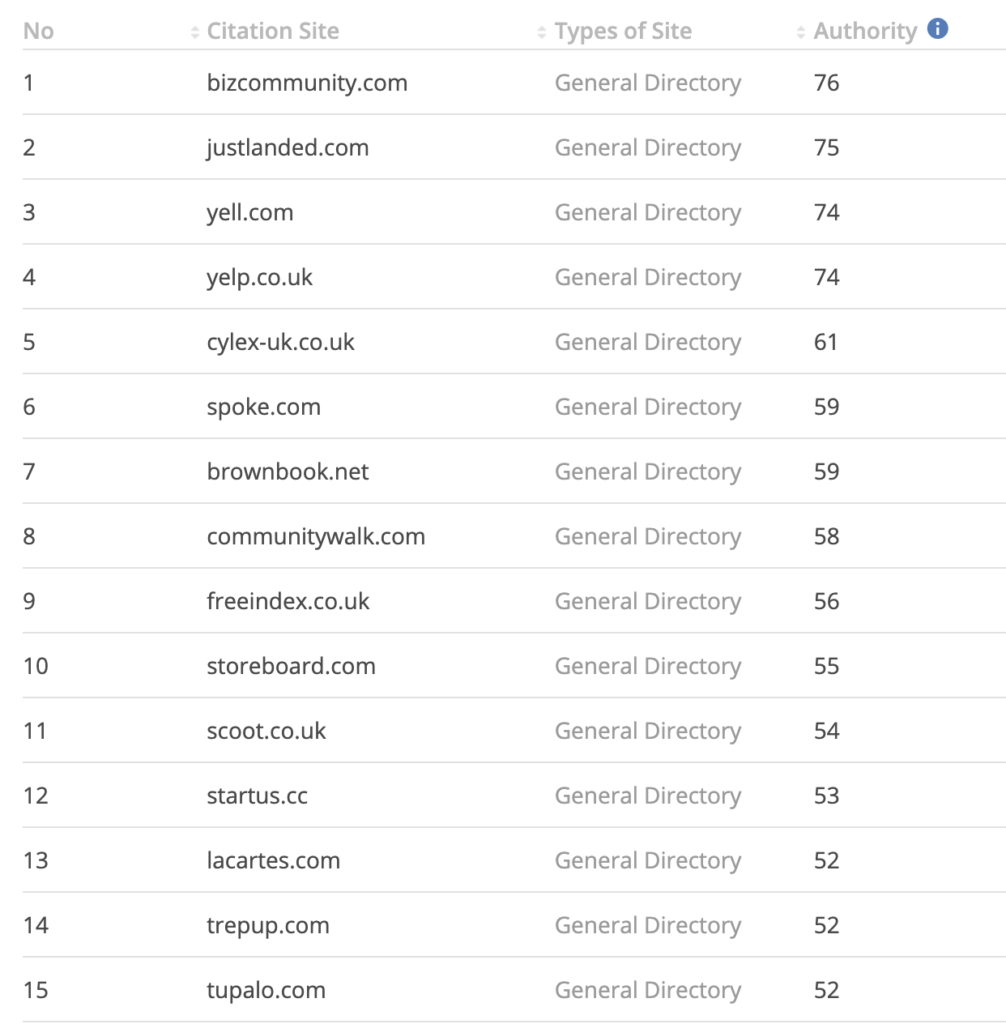 You can register on nearly all these sites for free and all will have a rank-boosting link back to your website along with confirmation for Google of your NAP information, boosting your trust.
You can also use a citation builder service, where you pay someone else to do the hard work of registering your business on these sites, although you will still have to do some manual confirmation and verification. Citation Builder Pro offer 100 citations for $65, and there are lots of others. You can also take a look at the list of directories the citation builder is suggesting and just create the same listings manually.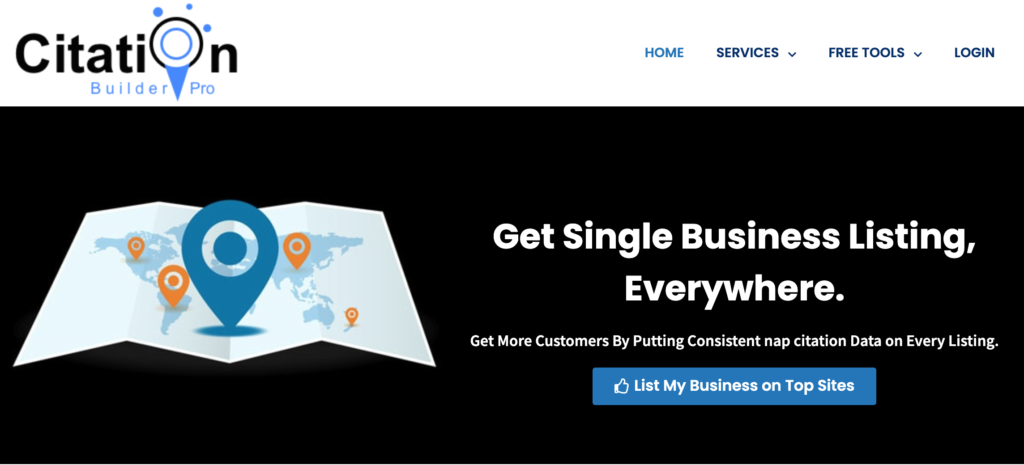 4. Become a Five-star Business
Once you register on Google My Business, other internet users can now leave you reviews. Don't fall into the trap of thinking these reviews aren't important. Aside from the effect they will have on other potential customers, Google looks at your reviews to decide how to rank you in search, so curating five-star reviews from your customers is really important if you want to be found online.
Once a customer leaves a review, reply to it from your GMB console, especially if you get a negative one. Google prefers businesses which reply to their reviews, because customers prefer businesses who reply to reviews. There are some fascinating statistics about consumer reviews in this list of 51 Customer Review Statistics to Make You Rethink Using Them, including that people spend 49% more money at businesses that reply to reviews, and that an average rating of between 4* and 4.7* is considered more trustworthy than 5*, which consumers see as 'too perfect'.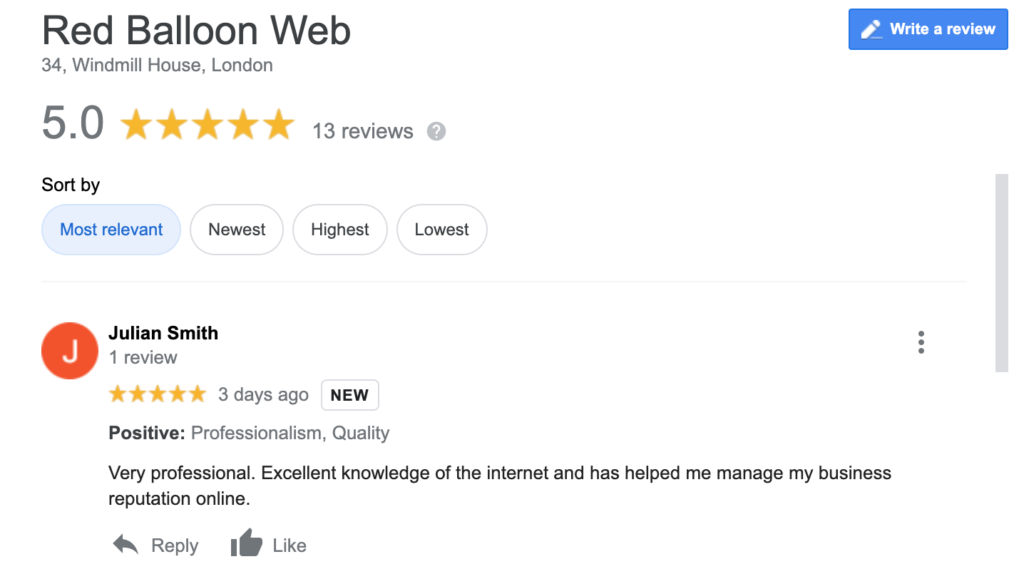 You can start building reviews by contacting existing and previous customers you are on good terms with and asking them for a review. From your GMB console you can get a link to share with people to make it easy for them. If you're a physical business, you can have a QR code on the counter or by the door with a message asking people to review you on Google. BrightLocal also have a reputation management service with tools which make it easy for you to contact customers and encourage positive reviews.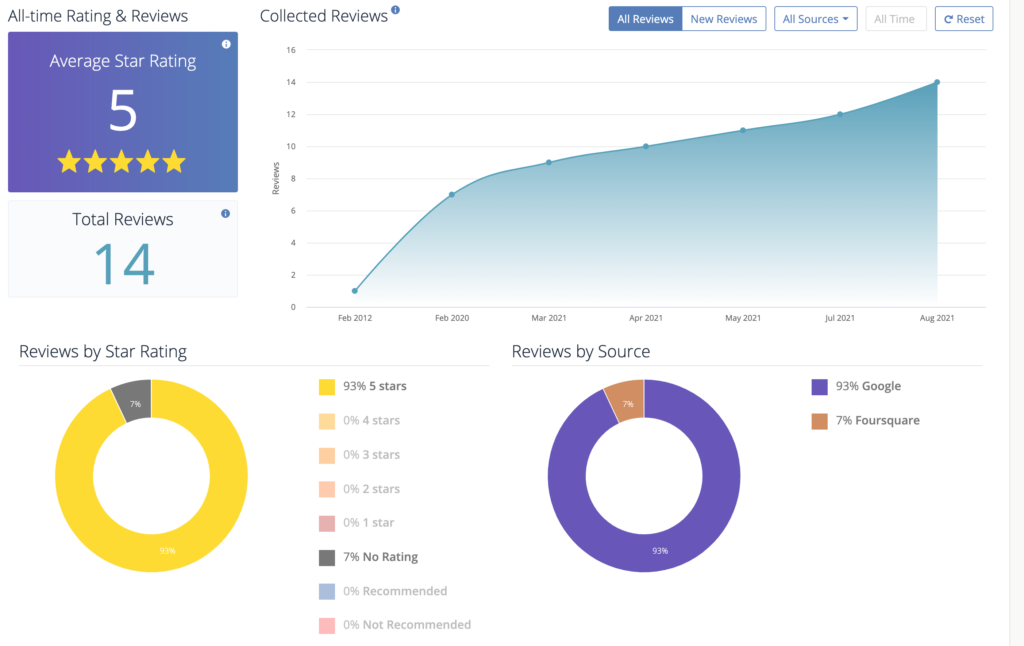 Having good reviews across platforms is another big SEO win, so if you can get customers to leave you reviews on Facebook, Trustpilot and Yelp, that's better than just Google.
5. Review Your On-page SEO
Once you've done your GMB, built your citations and started collecting reviews, it's time to look at your website. Think about these things that Google likes:
Organise your site well
Ensure that your site is well organised and it's easy for people to find the information they're looking for. When your website loads it should be immediately obvious what you do and where you're based, with links to your service and contact pages. Have one page for each of your services, so if you're a tailor who sells off-the-peg suits, tailored suits and alterations, have one page for each of these things. You'll also have an about page and a contact page. Put your address and contact information in the footer of your site.
Optimise your service pages
Google likes pages that give plenty of useful information and answer questions, so to rank high on Google try to include at least 500-1000 words of text on each of your services. FAQ sections are also very popular with Google, and they may even pull answers from your site to populate search results.

Outbound links are also important. Although it might seem counter-intuitive, linking to other authorities in your industry will show Google that you're plugged in to the wider community, increasing trust.
Meta tags and Schema.org
Meta tags tell search engines what your page is about, and there are also open graph and twitter card tags which control how your site looks when previewed on social media. These previews are hugely important for SEO – write them carefully and include your key SEO terms for that page.
Schema.org is a recent markup scheme that allows the page to tell Google more detailed information, called structured data. This will tell search engines what the purpose of the page is, who you are and where you are based. You'll also want to ensure your title tag (the text that appears in the browser tab) contains your SEO terms.
If you have a WordPress site, you can edit these settings using the Yoast plugin which has a free basic version. Other platforms will also allow you to edit these without needing to write any code.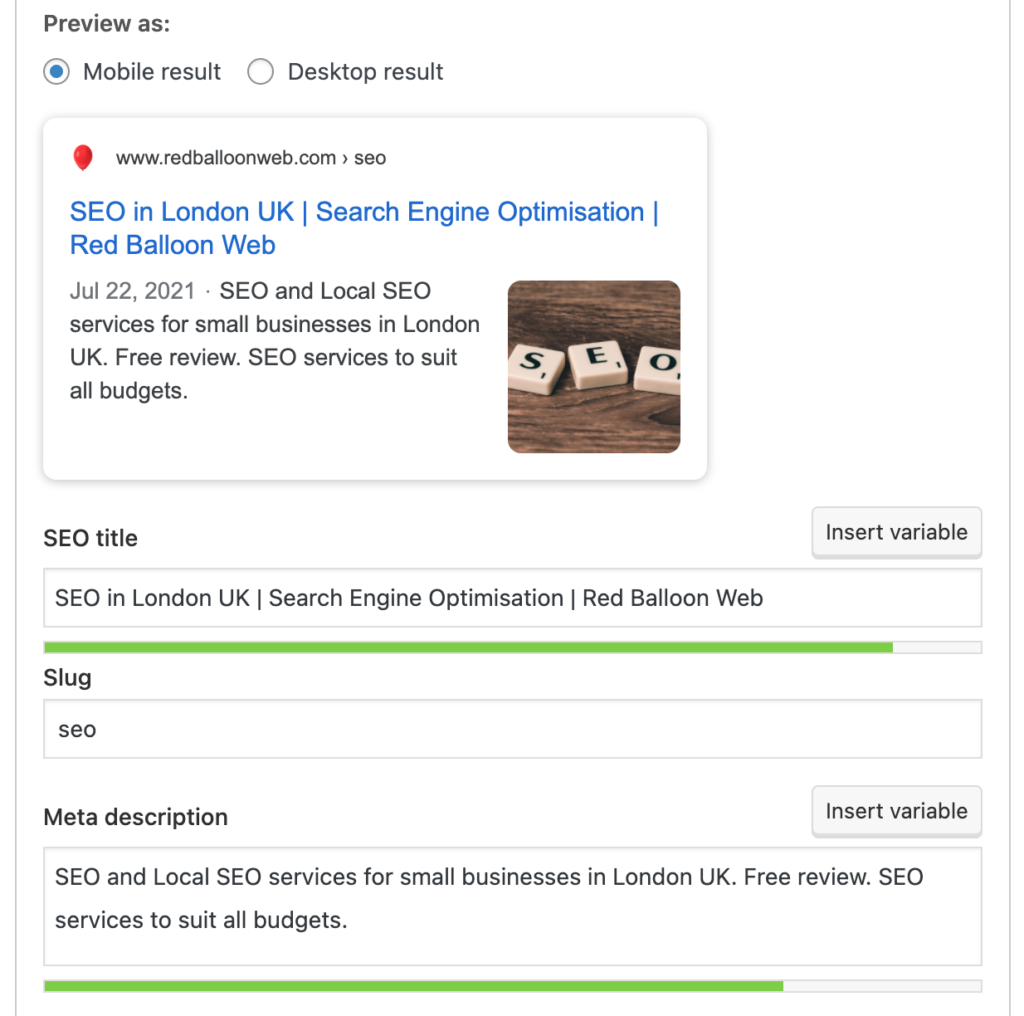 Think about EAT
EAT is shorthand for Google metrics called Expertise, Authority and Trust, and Google will look for signals that you fill these criteria to rank your website highly. This blog post from Ahrefs is a great introduction to the concept of EAT.
To demonstrate expertise, answer questions in your field and explain on your website how your service works. Long copy and FAQ sections are important for this (by publishing this post, I'm demonstrating to Google that I have expertise in SEO). For authority look at your about page – make sure you mention all your qualifications, awards and experience. If you don't have any qualifications in your field, talk about your experience and try to link to any mentors or tutors who have helped you. Trust comes from things like positive reviews and plenty of citations.
Take some time to optimise your about page and make sure you list everything you possibly can about you and your team and why people should consider you an authority. Be transparent on your website rather than hiding behind your brand. Make it obvious who you are, with links to your LinkedIn and social media.
Blog or Knowledge Base
Doing all the things we talk about here will help you to hold your own on Google, but if you want to regularly rank high in our current times, you're going to need to keep some kind of blog or knowledge base where you can consistently publish useful articles about what you do, and allow you to consistently publish fresh content.
6. Review Your Technical SEO
Technical SEO refers to the way your website is coded and marked up, how fast it loads, and anything else that refers more to its technical qualities than its content.
Although fixing some technical SEO issues will need a competent developer, there's a lot you can fix yourself with a bit of research. Most importantly, you can carry out the tests yourself for free, then you know whether there are problems that need attending to or not.
Most SEO software will carry out a technical SEO review of your website. My favourite is BrightLocal, as it's nicely presented and easy to understand.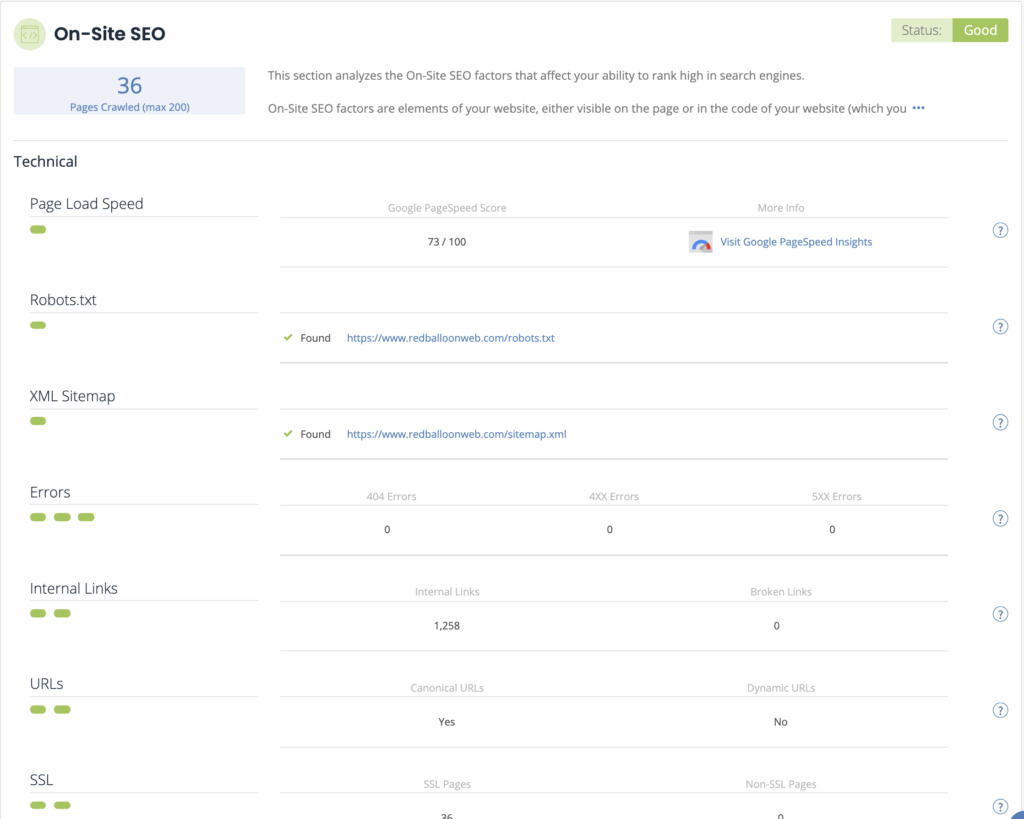 You can also gain a lot of information on the technical performance of your website using the free tools Google Search Console, which allows you to manage multiple websites from one place, and using Google PageSpeed Insights, which again can be quite technical, but will give you an idea whether there are issues which need fixing.
7. Optimise for your Niches
Everything covered in points 2-6 are the "staple" of SEO, which you should do for any business. For example, if you're a jeweller that's a local and generic search where we aim to come up high in local results for anyone searching for "jeweller".
But our jeweller might have other online opportunities. By carrying out keyword research, we can look for specific terms people are searching for that we might be able to optimise for to hit national and international searches. For example, people who want to buy a new watch strap.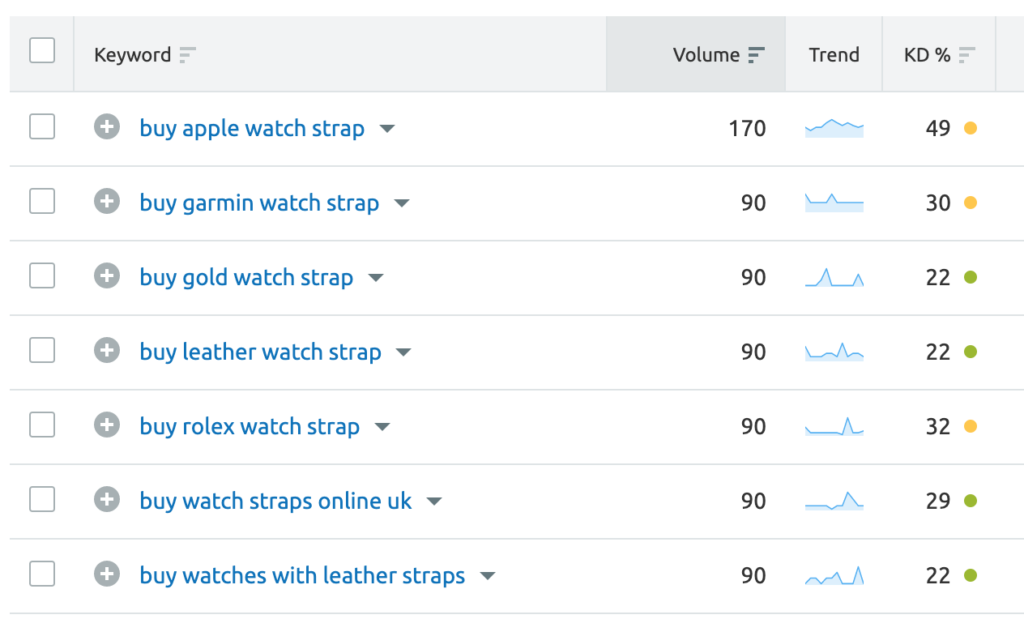 Or they might decide to target people looking to buy jewellery online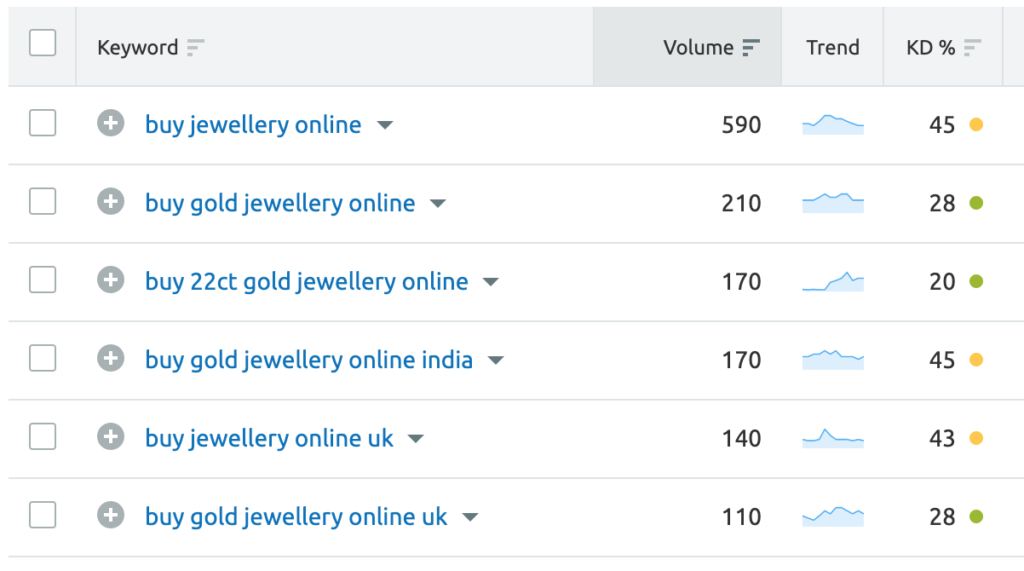 You'll have to consider a lot of things when doing keyword research to pick the terms you want to optimise for:
Relevance
How relevant is this term to what you actually do? The best keyphrases to go after are the ones which target services you already offer. Keyphrases which are peripheral to what you do will be more work to optimise for.
Volume and Competition
Volume and competition go hand in hand as the higher volume searches will generally have the higher competition. Think about how much work you can afford to put into your SEO efforts and what is reasonable to target. It's better to go after a term with only 100 searches a month and stand a reasonable chance of getting into the top 10, than it is to go after something with 5000 searches a month that you're never going to rank for.
Use SERP tools to analyse the competition, look at their websites, analyse their strengths and weaknesses and think why Google would rank your website higher..
Search Intent
An electrician discovers that thousands of people are searching "wire a plug" and there's almost no competition. He optimises for it only to find that all those thousands of people were looking for instructions on how to wire a plug, not to pay someone to do it for them.
Think about the intent of people making the search, and especially importantly, make the search yourself and look at the results. What is Google serving up to people? Is it mainly informational pages, products for sale, or something else.
Create and Optimise
Once you've identified the specific search terms you're going to optimise for, create a page for each one and optimise it with on-page SEO as we talked about in stage 5.
8. Promote, Monitor, Repeat
Even once you've done everything in this guide, it's unlikely you'll suddenly rank high on Google. Everything here will give you the surest possible foundation to climb the rankings, but SEO is a process, and you'll need to build your SEO efforts into your regular activities.
Monitoring
You'll need to be able to track your positions to monitor the effect your SEO efforts are having. If you don't want to pay a monthly fee to track your rankings using one of the SERP tools, you can always create a free trial with a different platform every month, check and record your rankings and then cancel. Alternatively you can just google your chosen search term. Be sure to sign out of your Google account first, or the results will be skewed.
Citations and Reviews
Keep building your citations and reviews. You might want to try finding and adding one new citation every week, and make a point of continuing to ask your customers for a review.
Content and Inbound Links
Content creation and inbound links are the real meat of SEO work. The more other websites link to your website, and the more other websites link to them, the higher your website will rank.
Getting other websites to link to yours is no easy task. People won't give you a link just for the sake of it, so to get other websites to link to ours we have to create content that will be genuinely interesting or useful to them. That takes time and effort. Think about what you can create that will interest people – if you're a solicitor, advice about writing a will or your employment rights is useful. If you're an animal rescue centre, videos of the animals you have rescued will be popular with people.
Even once you've created this fantastic content, you'll still have to reach out to bloggers, journalists and anyone else you can think of who might be interested. Do some research and create a spreadsheet of people and websites you can contact and share your information with them. Don't be afraid to ask two or three times if you don't get a result, and try to create a personal relationship where you can – ideally you would find someone who finds sharing your content useful and you can create a beneficial relationship for both of you.
Offsprout have some excellent videos on how to build links to your website by reaching out to bloggers.
Conclusion
The bar to entry in SEO is low. You can learn the theory with free courses, books and possibly a £10 Udemy course. The tools you will need charge a monthly fee, but you can jump from free trial to free trial to get the information you need, or you can simply do your own searches and monitor the results.
The real investment in SEO is time. It takes time to do research, build citations, write content, do on-page SEO and technical optimisation, so either you put in that time yourself or pay a specialist to do it for you. If you have the time, there's no reason why you can't learn the fundamentals of SEO and do most or all of your SEO work yourself.
You'll probably also take a hybrid approach. No businesses really have a budget of zero, and you might find that you do most of the work yourself, and subcontract out some of the things like technical SEO which require more specialist knowledge. Even if you do eventually hire an agency, the time you've spent learning and doing your own SEO will not only give them a head start, but will be invaluable in communicating with the agency staff. Good luck!
Photo by George Morina from Pexels