In this post we look at local SEO services. What is the process of driving a local business in the Google rankings? How is it different from wide area SEO? We'll look at the answers to these questions and the services that you need when you're promoting your local business.
See also our SEO page and What Are SEO Services?
What is Local SEO?
When you search on Google, the Google algorithm takes a guess at your search intent based on the keywords you enter. If you enter 'buy trainers online' for example, Google knows that this is a product search, as opposed to say an informational search or a location search.
Google has labelled certain search terms as local search, meaning the intent of the searcher is to find a local business. For example, if you search 'coffee shop', 'hairdresser' or 'plumber', Google knows you are probably looking for a local business.
Google uses different criteria to judge where local businesses should appear in the rankings to the ones it uses for other searches, so we have to know how to optimise our page for these specific things.
The Local Pack
A quick way to check whether a search is local is to search for it and see whether Google returns a local pack. This is a small map showing the top three results for your search.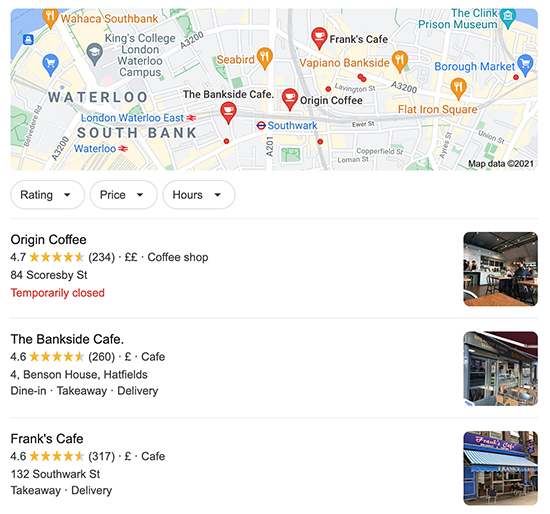 Clicking on the map will take you through to a larger map with more results on, but to really see the benefits of our local SEO, we want to try and get our business into one of these top three spots on the local pack, to get our business in front of the maximum number of users.
Local Search Grid
Whereas for an informational search the information can come from anywhere on the internet, when a user does a local search they want businesses close to them. Therefore, the closer you are to the user's search location the more relevant you are to their search and the higher you will rank. This is a search grid produced by Brightlocal SEO Tools.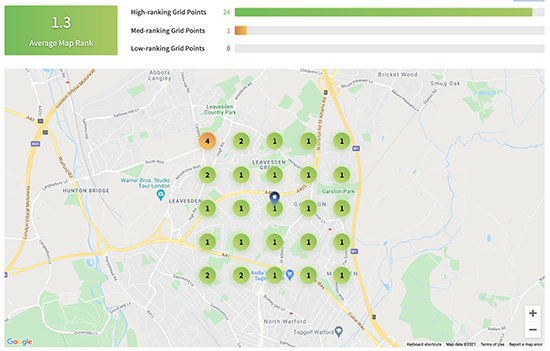 Location is not the only ranking factor, as we will see below. The local search grid is used to monitor our SEO efforts, so we start by trying to rank no.1 for a user who is standing right outside your business, and then work outwards from there. The business in the above grid would be thinking about turning the 2s and 4 into 1s, and then analysing a wider grid.
Google My Business
Google has a brilliant service available to all local businesses called Google My Business, or just GMB.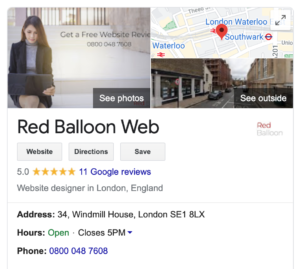 Setting up or claiming your GMB listing is the single most influential thing you can do to rank your page in local search. In fact it's the only way of getting ranked in the local pack and on the accompanying Google map, which is the way people are going to find you in local search.
The process of setting up your GMB in order to appear as highly as possible in the search rankings is called GMB Optimisation. You'll want to ensure that all your business details are filled out correctly, that you've added some photos, and preferably also added some products that you sell. Basically, fill out as much information about your business as you possibly can. The more you take the trouble to complete, the higher Google will rank your business.
You can also (and should) create regular posts to let your customers know what you've been up to in your business. The more you keep things updated, the more Google will think that your business is staying up-to-date and keeping in touch with its customers.
It's easy to underestimate what a great thing GMB is. By making it free, simple and local, Google have ensured that every single business can get a foothold in digital marketing, no matter how small their budget.
Your Website
The next most important local SEO optimisation technique is your website itself. In that respect this is exactly the same as wide area SEO – your pages need to be relevant to the searches you are targeting, they need to be technically well optimised and preferably contain links, images and answered questions.
I look at optimising your website – called on-page SEO in the blog posts What Are SEO Services? and The 2 Steps to On-Page SEO.
Reviews
Once your business is registered with GMB, anyone with a Google account can leave a review, and your reviews are the next most important factor in local search optimisation. If your business has dozens of glowing reviews and mine only has a handful of mediocre ones, then Google will quite fairly assume that your business is more useful to a searcher than mine, and return it higher up the rankings.
Although you can't directly control your customer reviews, we can curate them to some extent, known as reputation management. The first step (after providing a 5-star service in the first place!) is to actually approach your clients and ask them for reviews. You can do this using a review link from GMB which you can send to your customers and when they click on it it will take them straight to your "leave a review" GMB page.
The next step is to reply to your reviews, which Google considers very important. Replying to positive reviews is easy, but replying to the negative ones is more important, putting your side of the situation or simply saying you're sorry they had a bad experience and is there anything you could do better.
Google will also take into account reviews from Facebook, Yelp and other sites, so curating reviews across platforms is ideal if you have the time and the client level. We can also set up tools for you which encourage customers to leave you a review on various sites.
Citation Building
A citation is a listing for your business on a business directory website, pointing back to your website and containing your name, address and phone number, also known as your NAP, so your citation is a NAP Listing.
In reality there are only a few business directories that people really use to find businesses, such as Google, Apple Maps, Bing and Yelp. But there exist hundreds more. Although they're not used so much in real life, they form what is known as the authority layer of business directories, meaning that the more of these directories your business is listed on, the more authority Google considers your website to have, and the higher it will rank.
Building a good number of citations is very time consuming. Many directories will require some kind of validation or a phone call (during which they will try to sell you other services) before your listing goes live, and you also need to analyse the directory itself to make sure you are targeting directories with the highest domain authority. Fortunately there are various services available to do a lot of the hard work for you, including our own citation building service where we build 50 or 100 citations for a fixed price.
Conclusion
A local SEO campaign consists of first measuring our position on the local search grid, then optimising the most important factors for local search – GMB, your site, reviews and citations – and tracking your position.
As with all SEO, long-term success doesn't come from a cursory optimisation of your site but from paying ongoing attention to your SEO and seeing what else you can do to raise your rankings. You might think of new ways to get customers to leave positive reviews, new ways to leverage you GMB presence, or ways to raise the authority of your website by getting more people to link to it. SEO will be one part of your overall marketing strategy, and you need to be constantly reviewing to see where your resources are best used.
Our Local SEO Services
At Red Balloon we offer local SEO services by the hour. We'll provide a free review of your current strategy and what your priorities should be in promoting your local business, and quote you for the various services which are relevant to you.
We also offer a monthly SEO partnership service with a fixed number of hours per month and the ability to cancel at any time. The advantage to this is that rather than taking a reactive, piecemeal approach to your SEO we can work out a longer-term strategy tailored to your business, giving your efforts a direction and a coherent plan. We agree KPIs and provide full transparency on your search position and users, so everyone can see what's working and what's not.
I hope you've found this article useful. If you'd like to know more about our local SEO services or benefit from a free web review, just contact us or call us on 0800 048 7608.